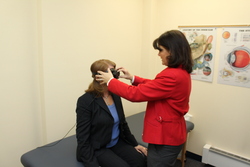 I finally went to the Balance Institute. While I was there, we worked on different head positions and within an hour, my dizziness was gone! For four weeks of my life, I fought that feeling, not knowing that it could be corrected so quickly...
Indianapolis, IN (PRWEB) September 21, 2010
Balance Institute of Indiana is a licensed Medicare physical therapy and audiology facility that offers state of the art diagnostic and therapeutic treatment plans for patients with vestibular dysfunction and balance impairments. Balance Institute of Indiana has been treating patients in the Indianapolis and surrounding areas since 1996. Balance Institute is dedicated to promoting better understanding of dizziness/balance dysfunction, facial paralysis, and hearing loss through an integrated partnership between our referring physicians and our patients.
Living with dizziness, imbalance, hearing loss or facial paralysis can offset the balance of life for any individual. Balance Institute of Indiana is the only comprehensive outpatient private practice in the greater Indianapolis area completely dedicated to the evaluation, treatment and research of dizziness, balance and facial paralysis.
At the Balance Institute of Indiana, our patients all have one thing in common- they feel dizzy or unsteady. Everyday tasks such as getting dressed, going to work or school, shopping, or even just standing up, have become increasingly difficult for them. We specialize in the treatment of balance disorders of the vestibular, central and postural origin.
Balance Institute of Indiana is equipped to evaluate any person with a balance/vestibular impairment, from professional athletes, to those who have suffered a stroke or head injury. Research has shown that as many as 89% of those who seek treatment at a clinic such as ours will benefit in overcoming their symptoms once a diagnosis is reached.
Balance Institute of Indiana takes pride in going the extra mile and providing excellent care to each individual that invests their time in attending our facility. You can be certain your experience with us will be positive and conclude with exceptional results!
###