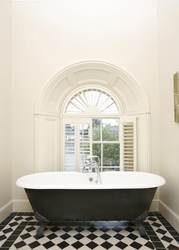 We are really looking forward to launching our new range of North American Cedar Wood Shutters at the National Home Improvement Show at Earl's Court
(PRWEB) September 14, 2010
The National Home Improvement Show is renowned for providing free expert advice to homeowners. Visitors to this year's show can get advice from celebrity experts: Michael Holmes from Real Home magazine, TV presenters Julia Kendell and Charlie Luxton.
The Appeal Group will be exhibiting their range of window furnishings, which include our range of high-performance, design-led conservatory blinds and our North American Cedar Wood Shutters, on stand 254 from the 1st to 3rd October at London's Earls Court.
New for 2010 - Appeal's New North American Cedar Wood Shutters
Stylish and versatile, Appeal's North American Cedar Wood Window Shutters are hand-crafted to order, complementing any style of room from traditional to contemporary.
Appeal's Window Shutters are made from North American Cedar Wood as it poses significant benefits when compared with shutters made from lower quality woods such as Basswood. The Appeal Group selected this sustainably sourced premium quality hardwood due to its naturally attractive appearance, durability, lightness, and strength. Its straight grain means it will not twist, wrap, or shrink – a problem inherent in shutters made from lower quality woods. Cedar wood provides exceptional stability and resistance to moisture, heat and cold. Therefore Appeal's North American Cedar Wood Shutters provide superior insulation by keeping a room noticeably warmer in the winter and cooler in the summer – helping to reduce household bills.
The native people of the Pacific Coast prized Cedar Wood for its long-lasting qualities and used it for most of their building needs. Evidence of Cedar's durability are the many Cedar artefacts still in good condition today. Appeal's high quality North American Wood Shutters will deliver decades of trouble-free service – meaning they should be seen as an investment in your home.
Appeal's bespoke shutters are available in different styles – each with their own individual benefits.
Full Height – Simple and elegant, these full height shutters cover the whole window. Louvers can be made in sets, providing flexibility when it comes to shading and privacy.
Café Style Shutters – fitted only to the bottom half of the window, these are a popular choice for town or city dwellers – whilst providing privacy from the street, they let in light through the top half of a window.
Tier on Tier Shutters – are in essence one set of shutters installed on top of another. This style is exceptionally versatile as it allows the top and bottom sets of shutters to be opened or closed independently.
Solid Shutters – akin to wooden panelling, Appeal's Solid Shutters add a period feature to the home and when closed provide a substantial deterrent to intruders.
Appeal's range of shutters are available in a wide choice of finishes, or they can be painted to custom colours (on provision of paint reference) to sit better with your existing interior colour scheme. Appeal's bespoke shutters are available in a huge array of shapes – curved, triangle, circles… virtually any shape is possible meaning that almost any window can have an Appeal Window Shutter fitted!
Appeal's Conservatory Blinds
New for 2010 – The Appeal Group are now offering their high-performance, handsome blinds to furnish windows throughout the home. Appeal blinds are no longer solely the preserve of the conservatory and can provide a complete window treatment or can be teamed with curtains to offer an alternative backdrop.
Appeal are the only nationwide company to offer a complete range of fully bespoke conservatory blinds including: Original French Pinoleum, Solar R®, Alu-Pleat®, Roller, Pleated, Venetian, Honeycomb, Honeycomb Blackout, Reflex and Stria blinds.
Appeal's Original French Pinoleum Blinds
Appeal's famous Original French Pinoleum blinds were first introduced to the conservatory blind market over 20 years ago - with their classic and handsome looks they still prove to be the most popular choice of conservatory blinds today. Appeal's Original French Pinoleum blinds are made up of thin strips of sustainably sourced wood which are hand-woven together. Original French Pinoleum blinds help to transform the harsh rays of the sun into a soft dappled light – helping to create a calming, relaxing and shaded environment in your conservatory. These blinds are available in 22 historic paint colours or can be colour matched to fit an already existing paint colour in the room.
Appeal's exclusive Alu-Pleat® and Solar R®
Appeal's range of high performance Solar R® and Alu-Pleat® blinds are the most heat reflective blinds available on the market today. These revolutionary blinds reflect an astonishing 85% of heat energy back outside a room thereby in the hotter summer months keeping glass spaces in your home at a comfortable temperature naturally. Whilst in the winter, Solar R® and Alu-Pleat® blinds help to insulate and retain warmth in the room thus reducing the need for excessive and expensive central heating.
Any of Appeal's conservatory blinds can be installed to operate via a discrete motorized remote control system. Using the latest technology from Somfy (- the worlds leaders in motorized power units for automatic blinds) Appeal's patented intelligent PowerDrive blinds are commonly recommended when: the coverage is greater than 3.5m, the conservatory has a large number of blinds making manual operation a chore, for roof blinds that would otherwise have to be pole operated, or the simple desire for the convenience provided by motorized blinds! The benefit of motorized blinds is they give the user the flexibility to control shading in their conservatories with minimal fuss.
Appeal provides a unique 5 years 'labour and parts guarantee' for its entire range of blinds and shutters – including the motorized operating system.
###