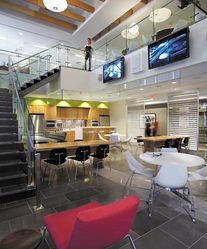 The hottest new technology in office design and furnishings is flexibility.
Boise, ID (PRWEB) September 13, 2010
Forget about the cubicle farm – the hottest new technology in office space design is flexibility. Those stereotypical executive offices and bullpens of the past are being remodeled into wide-open central expanses, with small conference rooms positioned along the walls. The result? The café office—featuring large communal office spaces outfitted with movable wall partitions to create privacy on the fly; and chairs and desks on casters that can be grouped, separated, and re-grouped as needed.
The New Process
"The hottest new technology in office design and furnishings is flexibility," says office relocation expert Karen Warner. "Office furniture spending has increased by 18% over the past two years. More and more businesses are replacing the old stand-bys with updated alternatives to do more with less office space." Warner, a commercial real estate broker and the author of Move Your Office: The #1 Source to Pulling Off Your Best Move Ever! has helped many companies rethink their office design and furniture strategies.
"Movable pieces really open up the possibilities," Warner explains. "Does the project management team need to gather for a brainstorming session? Members of the team wheel their chairs and laptop kiosks over to an unoccupied area of the room. Alternatively, they might gather in one of the small conference rooms with an interactive smart board, capturing their inspirations into a digital file they could tap into later from the company's server. When collaboration is complete, team members reorganize into smaller groups or return to their individual workstations.
But cutting-edge office design goes beyond office furniture. For the new model to work, people and their tools can't be tied to the tyranny of tangled cords and mandatory proximity to electrical outlets. The key to portability is wireless technology, including a wireless network, laptop computers, and VOIP (Voice-Over Internet Protocol) telephone communications.
The Right Pieces
Businesses considering the switch to flexible office furnishings have a wealth of options that can help enhance efficiency and workflow.
Look for wheeled desks and worktables that can be adjusted from 25" to 49" in height so that employees can alternate between sitting and standing positions. Work surfaces and desktops come in a variety of different materials, including plastic and wood laminates, but plastic laminate is generally the most economical option.
Panels—once the mainstay of the typical office workspace—have become optional in the new environment. Some companies use stationary panels to define work areas. Others use panels on casters that can be positioned for meetings or tasks that require concentration, and then pushed aside again when no longer needed. Panel heights range from 30" to 80," depending the amount of privacy each work area needs. Thirty-inch partitions allow for convenient communication between desks and work well for interactive assignments like project management teams. Fifty-inch panels provide greater privacy for telephone calls, but still allow for conversation between workstations when people are standing. The tallest panels afford enough privacy for intensive tasks or even meetings.
Attractive, practical storage is critical in this type of office. Open shelving, with bins that can be wheeled into place beside or even beneath desks, is a convenient option. Wheeled file cabinets with drawers work well for files and office supplies. Lateral files, bookshelves, and credenzas placed strategically throughout the space can provide additional storage.
Seating accounts for one quarter of all office furniture spending, so it's no wonder that desk chairs typically don't take a backseat to other office furnishings. Chairs designed for ergonomics and comfort incorporate a multitude of high-tech features and can be programmed to adjust for different users or different desk or table heights. This is helpful when more than one person uses the same work area. It also allows the same chair to be easily repositioned for different tasks, such as shifting back and forth between a desk and a design table with an elevated work surface.
Even conference room furniture is becoming more adaptable. The long formal conference table is giving way to small tables that can either be grouped together to accommodate a large meeting or separated for informal training sessions. Moveable tables with casters are highly functional and practical for this.
Technology is just as critical in the conference room as in the main office area. All conference rooms should have a networked computer, a ceiling-mounted projector, and screen, so project teams can easily review and edit files during meetings.
The Payoff
The ROI for a well-designed, well-organized office is real. An investment in the right office furniture and equipment pays off in a more efficient and productive workplace. And as an added bonus, an effectively designed office can reduce the amount of square footage needed, which can really cut down on occupancy costs.
"The bottom line, "says Warner, "is that the floor plan should support and facilitate the business plan."
If your plan calls for interaction between multi-functional teams and a high level of communication among employees, moving the furniture could be the best move your business makes.
How to Find the Right Furnishings
Work with an experienced furniture vendor or office design consultant to develop an overall plan. Sticking to the big picture helps make sure the pieces fit together.
Keep ergonomics in mind for seating and desktop options. It protects the health, safety, and comfort of your staff and can help prevent work-related medical claims.
For maximum durability and interchangeability, invest in high-quality components. Top-brand manufacturers are less likely to discontinue product lines, making it easier to add compatible modules and accessories as business needs change and grow.
Visit http://www.moveyouroffice.com for detailed information on planning your office design and furnishings.
Karen Warner is the author of Move Your Office: The #1 Source to Pulling Off Your Best Move Ever! , the best-selling office leasing and relocation guide on Amazon.com. Move Your Office is also available at http://www.moveyouroffice.com. Karen' skill and experience as a commercial real estate broker has helped many businesses manage a smooth transition to their new location. Her extensive knowledge of the commercial relocation process and unique talent as a tenant representative allows her to expertly assist clients in finding and negotiating office space. Karen's status as the author of three best-selling commercial relocation books gives her the tools and savvy to formulate effective moving strategies.
###