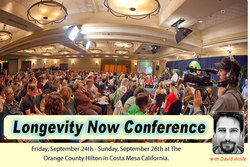 Nowhere else in the world will there be such a brain trust of health innovators.
Los Angeles, CA (PRWEB) September 13, 2010
David Wolfe's Longevity Now Conference is three consecutive days of natural nutrition and health information from 15 dynamic and visionary speakers at the Costa Mesa Hilton in Costa Mesa, California on September 24-26, 2010. Topics explored include herbs, detox, super immunity, longevity, fitness, anti-aging, energy, raw food, and grounding. The Longevity Now Conference is the first live event in the world to offer an interactive opportunity to experience being "grounded" utilizing a proprietary technology while attending the seminar.
Attendee's will also experience the Longevity Tonic Bar that serves some of the most powerful, delicious unique healing drinks available anywhere.
As co-founder David Wolfe states, "The Longevity Now Conference is an opportunity to upgrade our health operating system from the old model. Opportunities for attendees to learn, feel, and taste the latest and greatest breakthroughs are available only at the Longevity Now Conference.  Nowhere else in the world will there be such a brain trust of health innovators. Check out the line up and get ready for the event of a lifetime. This event is what I have been working towards for 15 years. Now it is a reality."
The conference is one of the first to feature a live uninterrupted streaming webcast of the event for those who are unable to attend live. There will also be on-demand replays available.
Topics include:

David Wolfe with the latest cutting-edge research on the most powerful superherbs on the planet. He reveals a powerful superherb that helps offset DNA damage from the aging process. Discover the critical role superherbs play in fighting age-related degeneration.
Learn the latest cutting-edge research on telomere technology which recently won the Nobel Prize.
Dr. Joseph Mercola introduces the most effective forms of physical fitness and training. Find out why the exercise you might be doing isn't helping you lose weight and gain muscle. Discover what you must never eat before or after you exercise. Learn importance of the human growth hormone and how to maximize its release in your body.
How to lose weight, gain metabolic energy, immunity, and well-being of your prime youth years at any age.
Learn how to activate your brain and achieve an ageless mind with learning/memory expert Jim Kwik. Stop those senior moments, improve your focus, and never forget another name again.
Discover the top five brain-boosting foods and supplements you simply cannot go without.
Discover the importance of hormonal health and the critical role it plays in weight loss, proper digestion, the way the body stores fat, and energy levels. Learn how to repair enzymatic function in your body, which leads to weight loss. Learn the critical role serotonin plays in weight loss.
Learn how to make simple, easy living food recipes that heal and rejuvenate the body and taste great.
Featured Presenters:
KEYNOTE: John Robbins is the author of "The New Good Life:  Living Better Than Ever in an Age of Less." He is also author of the international bestseller "Diet For a New America: How Your Food Choices Affect Your Health." John's work has been the subject of cover stories and feature articles in The San Francisco Chronicle, The Los Angeles Times, Chicago Life, The Washington Post, The New York Times, The Philadelphia Inquirer,  and many of the nation's other major newspapers and magazines.  His life and work have also been featured in an hour long PBS special titled "Diet For A New America."
Dr. Joseph Mercola of Mercola.com, the world's most visited natural health site with over 20 million page views every month. He has two NY Times bestselling books and is frequently a guest on major media such as CNN, ABC, CBS, NBC, Fox News, and  Dr. Oz In November 2009, he was named the top Ultimate Wellness Game Changer by the Huffington Post, an honor that celebrates "100 innovators, visionaries, and leaders in 10 categories who are harnessing the power of new media to reshape their fields and change the world."
Dr. Stephen T. Sinatra, MD, FACC, FACN, CNS, CBT is a board-certified cardiologist and Assistant Clinical Professor of Medicine at the University of Connecticut School of Medicine in Farmington, Connecticut. He is a fellow in the American College of Cardiology and the American College of Nutrition. Certified as a bioenergetic psychotherapist, and nutrition and anti-aging specialist, Dr. Sinatra integrates psychological, nutraceutical and electroceutical therapies in the matrix of healing.
Donna Gates is a nutritional consultant, author and lecturer has helped thousands of people overcome candidiasis and other immune system disorders. Her book, "The Body Ecology Diet", was written after years of research to find a cure for her own candida-related health problems. Frustrated with conventional medicine, Donna began in-depth studies and worldwide travels to find the best healing systems.
David Wolfe is the author of the best-selling books, Eating for Beauty (4th Edition), The Sunfood Diet Success System (8th Edition), Naked Chocolate (2nd Edition), Superfoods: The Food and Medicine of the Future (North Atlantic Books/distributed by Random House, 2009), and The LongevityNOW Program. He empowers and inspires people to take charge of their health even up against all the modern-day demands of bills, technology, environmental pollution, commuting, and inflation. By making simple, informed decisions, David shows us that we can all enjoy quality time for ourselves and with our family, because, after all, Health is Wealth!
A highly sought after health and personal success speaker, David has given over 1700 live lecture events in the past 15 years. Today, David Wolfe continues to share the stage in the company of Anthony Robbins, Jack Canfield, Buzz Aldrin, T. Harv Eker, John Gray, Les Brown, Barbara DeAngelis, Brian Tracy, and many more.
Longevity Now Conference Speakers/Participants also include:
Dr. Mark Merriman
Truth Calkins
Daniel Vitalis
Nadine Artemis
Jim Kwik
Kevin Gianni
Nick Ortner
George Lamoureux
Annmarie Gianni
Frank Giglio
Solla Eriksdottir
Dereme Church
Kim Sol
Puma St. Angel
Dr. Stewart Blaikie
MC Len Foley
Longevity Now Conference corporate sponsors: HealthForce Nutritionals, SunWarrior, New Health Horizon, The Best Day Ever
###