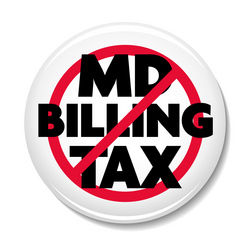 ClickFreeMD's unlimited, flat fee, get-it-all service is a physician problem solver providing big savings and results now, liberating revenues to grow cost free and, includes everything a physician needs to be where the practice of medicine is going!
Ridgewood, NJ (PRWEB) September 23, 2010
ClickFreeMD today introduced the healthcare industry's first unlimited use, all-inclusive medical billing, practice management and electronic health record (EHR) software, service and support solution to meet every related physician practice clinical, administrative and financial need for a low monthly flat fee. Unlike all other medical billing companies, ClickFreeMD offers everything unlimited. Unlimited claim submissions, unlimited seat software, unlimited patient communications, unlimited reporting, and much more, all for a low monthly flat fee and with no start-up, hidden or extra charges. ClickFreeMD pricing is entirely transparent and physicians can see their practice's flat fee and exactly how much they'll save within seconds.
ClickFreeMD is ideal for busy and growing medical practices that want simplicity, top results and major cost savings. Integrating comprehensive result guaranteed practice, payer and patient revenue cycle services, the highest quality internet-based practice management and stimulus eligible EHR software from INGENIX with straight-forward flat fee pricing, and a price match guarantee ClickFreeMD is an unrivaled value that offers physician practices many one-of-a-kind advantages:

Simplicity and Control: All the service, software and support a medical practice needs on all-you-can-use basis from one provider for a low monthly flat fee.
50% Operating Cost Reductions: Comparable services purchased separately cost twice as much and burden practices with large start-up costs, escalatory pricing schemes and add-on fees.
Cost Free Transition to a Leading EHR: ClickFreeMD uses INGENIX EHR, the AMA's first selection for their solutions platform and its fully qualified to earn our practices all federal stimulus dollars.
Protects Physician Earning Power: Low flat fee pricing delivers instant savings and caps costs. As practice revenue or activity levels rise, the flat fee doesn't. If revenues drop materially, the flat fee is lowered pro rata.
Top Internet-Based INGENIX Software: ClickFreeMD uses INGENIX practice management and EHR applications, with 250,000 diverse customers, INGENIX products support the leading medical practices.
Pay Less, Collect More, Guaranteed: ClickFreeMD matches any lower price for comparable services and, guarantees top collection levels are achieved or rebates half of its fee.
Bob Gordon, ClickFreeMD CEO said, "Physician's number one problem, for the third year in a row, as reported in the MGMA 2010 "Medical Practice Today: What Members Have to Say" research, is that operating costs are rising faster than revenues. This is exacerbated by the difficult and expensive challenges they face, such as, selecting and implementing an electronic health records system, managing PQRI and P4P programs, preparing for ICD-10 and, keeping up with fast changing rules. Unfortunately, almost all existing providers pile on costs regardless of results, add complexity and introduce another vendor relationship to manage. ClickFreeMD's unlimited, get-it-all, flat fee solution provides big savings and results now, liberates future revenues to grow cost free and, includes everything a physician needs to be where the practice of medicine is going. So simple, it's one-of-a-kind!"
ClickFreeMD's flat fee pricing ends the MD billing tax, the confiscatory practice of charging a percentage of collections, a tax, on every hard earned dollar that a doctor earns, a common medical billing company practice. Under that scheme, besides the incentive to upcode, these companies can fail to resolve 5% to 20% of practice claims, dropping practice revenues while boosting their profits. That's because if a claim takes over fifteen minutes to resolve, it usually costs more to collect than they recoup. With ClickFreeMD, if physicians earn more, they keep it. All of it!
Physicians seeking big savings, cost proof profits and better results or evaluating Electronic Health Records and practice management software or outsource medical billing services will benefit from comparing their options with ClickFreeMD. In just seconds physicians can get their flat fee and savings calculated as well as learn more at http://www.clickfreemd.com.
About ClickFreeMD: ClickFreeMD is the Nation's first unlimited, all-inclusive medical billing, practice management and electronic health record (EHR) solution that meets every related medical practice need for a low monthly flat fee, cutting comparable service costs by 50% and guaranteeing top results. Visit http://www.clickfreemd.com or call (888) 548-4150 to see why ClickFreeMD is simply better.
###