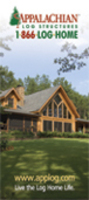 Mark Feder, VP of Sales at Appalachian Log Structures says "We are anxious to implement Opportunity Management in Sage SalesLogix Cloud to better manage our pipeline forecast."
Springboro, OH (PRWEB) September 30, 2010
Appalachian Log Structures chose last week to take their on-premise version of Sage SalesLogix to the Sage SalesLogix Cloud. Simplesoft Solutions was selected to help them upgrade their older version of the software to the most current v7.5.3 in the cloud.
Appalachian Log Structures was built over 30 years ago on a vision to provide durable, high-quality log structures for residential and commercial use in this country and abroad, with custom-crafted, superbly engineered log structures that would last for generations. The company offers the highest levels of traditional craftsmanship combined with the advantages of advanced technology. Appalachian Log turned to Sage SalesLogix for sales and marketing help nearly 8 years ago. They have automated lead capture, lead distribution, and marketing events management using Sage SalesLogix and Sage KnowledgeSync.
The desire to lessen the dependency on internal infrastructure and to upgrade for newer features drove their decision to move to SalesLogix Cloud. Mark Feder, VP of Sales at Appalachian Log Structures says "We are anxious to implement Opportunity Management in Sage SalesLogix Cloud to better manage our pipeline forecast." "In our business there are some clear buying signs such as attending a plant tour or purchasing home plans and Simplesoft has shown us how to take those buyer signs and incorporate them into the sales process steps and create a more accurate forecast using Sage SalesLogix." The move from the on-premise version to SalesLogix in the Cloud will happen within the next 30 days. A fast and thorough transition plan was important to Appalachian Log Structures because minimal down time with Sage SalesLogix is critical to their operation.
The cloud edition of Sage SalesLogix offers customers the best of both worlds—a full-featured, flexible CRM solution with full ownership of data combined with the attributes of a SaaS CRM solution like payment and contract flexibility, access to data online, and the ability to get up and running quickly. Sage leverages Amazon's Web service, Amazon Elastic Compute Cloud™ (EC2™), to host the necessary hardware infrastructure and the award winning Sage SalesLogix application for its customers.
About Simplesoft Solutions
Simplesoft Solutions provides customer relationship management (CRM) software consulting for Sage SalesLogix, SageCRM, and ACT! in Ohio, Kentucky, Indiana, and West Virginia. We have been supporting the sales, marketing, and customer service business consulting needs of clients since 1993. Our CRM solutions, services, training, and support, along with our philosophy of incremental return on investment, mean the impact to our client's business is real and immediate. Simplesoft Solutions was named a Sage President's Circle Business Partner winner for 2007 and 2008.
About Sage
Sage supports the needs, challenges and dreams of nearly 2.8 million small and mid-sized business customers in North America through easy-to-use, scalable and customizable software and services. Our products support accounting, operations, customer relationship management, human resources, time tracking, merchant services
and the specialized needs of the construction, distribution, healthcare, manufacturing, nonprofit and real estate industries. Sage is a subsidiary of The Sage Group plc, a leading global supplier of accounting and business management software solutions and related products and services for small and mid-sized businesses. Formed in 1981, Sage was floated on the London Stock Exchange in 1989 and the Group now has 5.4 million customers and employs over 13,000 people worldwide. For more information, please visit the Web site at Sage.com.
# # #