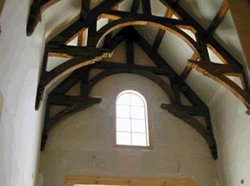 We've finally brought curved beams and archways to the faux wood beams market. It's a breakthrough.
Deer Park, NY (PRWEB) September 1, 2010
The largest internet retailer of faux wood beams has finally managed to bring a new twist to the market—literally. Family-owned FauxWoodBeams.com today announced the immediate and exclusive availability of a new line of arched, or curved, faux wood beams.
"We've heard and felt the pain of our customers," says Jeff Ommundsen, VP of sales at FauxWoodBeams.com. "They want to use faux beams for all their projects, but they've been frustrated by the lack of arches. We've put a lot of effort into bringing curves to the market, and finally here they are!"
Curved faux beams open up new design possibilities. Many classic architectural styles such as cathedral ceilings and vaulted ceilings use curved beams. Graceful truss designs such as hammer-beam trusses also depend on archways. Until now, designers who like to use faux beams in commercial buildings, public spaces and homes have been restricted from using curves and arches.
Curved Beams of Polyurethane Save Labor and Costs
"A timber framer told us this could change the way he does business," Ommundsen said. "Now he can add faux arches to structures that cannot take the weight of real wood without extensive and expensive rebuilding and shoring. The savings are substantial."
Builders, remodelers and homeowners have loved faux beams for a long time because of their economy, durability, ease of installation and realistic detail. But until now the beams have all been straight. They could be installed flat on the ceiling or wall, suspended between walls, or formed into simple or elaborate trusses. Curved arches have never been an option.
Sizes and Styles
The company offers the new line of Arched Woodland Beams in two different curves, several cross-section sizes, and a variety of finishes.
Beams with a 36-inch radius are 6-1/2 feet long with a cross section of 6 by 6 inches or 8 by 8 inches. Beams with a 157-inch radius are 12-1/2 feet long with a cross section of 6 by 6 inches, 8 by 8 inches or 8 by 10 inches.
All the beams are available unfinished or with a factory finish of walnut, cedar or oak. They are also available with a Class A fire rating. Complete information is available at FauxWoodBeams.com.
About FauxWoodBeams.com
FauxWoodBeams.com leads the industry with the most realistic faux wood products on the market. It is a subsidiary of Barron Designs Inc., a family business dedicated to the home improvement industry since 1972. For more information, visit FauxWoodBeams.com.
###