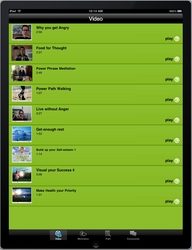 ...a portable, affordable way to learn proven anger management techniques.
New York, NY (PRWEB) September 28, 2010
Personal Power Path.com, a leader in the online self-improvement industry, announced the release of its anger management and stress reduction iPad Application. The iPad Anger App presents a new way for users to reduce stress and learn proven techniques to get control over anger.
"The iPad was made for this App" said Personal Power Path representative Nate Stack. "This program is a portable, affordable way for people, to learn and practice proven anger management and stress reduction techniques."
Personal Power Path developed its Anger Management and Stress Reduction program in response to the growing number of individuals coping with anger issues. US Research (http://archpsyc.ama-assn.org) estimates nearly 16 million Americans suffer with anger disorders. American Psychological Association research indicates if anger issues are left unresolved they can escalate anger and aggression.
The Personal Power Path iPad Anger App program incorporates community support, guided instruction, a tracking journal, motivational messaging and informative videos to help users regain control by reducing stress and managing anger. The course can be completed in six-weeks or at the user's leisure.
To learn more about the Personal Power Path iPad Anger Application, visit:
http://itunes.apple.com/us/app/anger-app/id383465393?mt=8
For more information on the Personal Power Path iPhone and iTouch Anger Management Applications, visit: http://itunes.apple.com/us/app/anger-management/id339007359?mt=8
About Personal Power Path.com:
Personal Power Path.com, a pioneer in the online self-improvement industry, offers a holistic online approach to anger, stress and relationship management through a combination of education, motivation and support. Personal Power Path programs integrate inspirational and instructional video and content with a social-networking community. Companion programs are available on http://www.personalpowerpath.com/anger
###