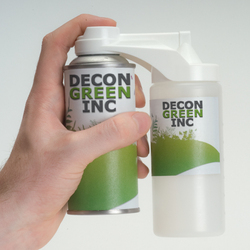 People call us all the time asking for our product to use for small areas, now we have something to offer them. Says David Stinn Decongreen Inc's Marketing Director.
Los Angeles, CA (PRWEB) September 4, 2010
Summer vacation is over and now is time to park the RV, close the boat, leave the convertible in the garage and let go of the restoration project.
Keeping mold out of leisure vehicles is ongoing because inactivity and humidity are the prime conditions to allow mold growth. Mold is a serious problem, it can totally destroy your vehicle and ruin your health.
Decongreen Inc. has developed an aerosol spray that can be used to treat the inside of vehicles while unused, so mold won't grow. The spray covers 500 square feet, enough to take care of any vehicle and more, it can be effective for up to 5 years inside a leak free, closed environment.
Decongreen Inc is an Indoor Air Quality Management Company working with residential and businesses of all sizes. Their product is EPA registered, non-toxic to humans, pets and plants, developed and produced in the USA, and most of all extremely efficient. Molecular technology allows the product to kill mold on contact and leave an antimicrobial barrier behind so it remains active until cleaned off. The product in the spray has the same industrial strength as the solution the company uses in its remediation treatments. This solution also kills odor causing bacteria, viruses, fungi and most allergens that trigger asthma and allergies.
So, next summer, when you open your leisure vehicle, it will smell like... nothing and that's good.
The product is only available on line at http ://http://www.decongreeninc.com/RETAIL/do-it-yourself.html
###