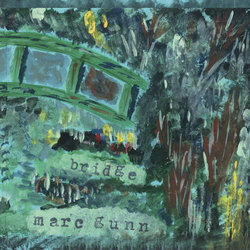 I literally am haunted by some new compositions.
New Orleans, LA (PRWEB) September 8, 2010
When Marc Gunn writes a new song – in this case, a beautiful ballad called "No Songs Left to Sing," it can haunt him until it's recorded, one explanation for the prolific musician's output of Celtic, American and original music over the past year.
"I remember being at the New Orleans Fairgrounds for the Louisiana Derby, and I could not stop humming the song," said Gunn. "I literally am haunted by some new compositions. I had to record it so I could stop."
Other original music on the CD includes songs written over many years, including a number of love songs. "Liquid Sunshine" was inspired by the name given to Hawaiian rain showers; Gunn lived in Hawaii and recalled the phenomenon and used it for this pretty love song reminiscent of '70's pop ballads by Donovan.
The title track, "The Bridge," is about a man longing for forgiveness by a woman he has hurt, but Gunn says it is also emblematic of his transition from traditional Celtic music to new forms, including the blues and jazz traditions in his new home of New Orleans.
The bridge analogy - of retaining a base while moving to another form – was a powerful one for Gunn. "All musicians hope to progress," remarked Gunn. "The change in hometown has been pretty dramatic for me – just being stimulated by different surroundings and musical influences, but still retaining the roots of what I have always done."
Other tracks include a jazzy version of the traditional Irish song "Black Velvet Band", an Americanized version of Robert Burns' classic song "Auld Lang Syne" and Francis McPeake's stunning ballad "Wild Mountain Thyme."
Marc Gunn plans more work linking Celtic music to New Orleans. "I've been working on some new music that is based on the experiences of Irish immigrants to Louisiana. The whole story of the New Basin Canal, for example, and the fact that so many Irish families ended up here because of the cotton trade with Liverpool. Just expanding on the Celtic music I love."
Track listing:
1. The Bridge (M. Gunn)
2. Between the Devil and the Deep Blue Sea (H. Arlen, T. Koehler)
3. Black Velvet Band (Trad.)
4. The Furball Set: Dobby Goes to Dublin (S. Gillogly)/The Cat in the Corner (trad.)/The Can of Salmon (S. Gillogly)
5. Peggy Gordon (Trad.)
6. Auld Lang Syne (R. Burns)
7. Liquid Sunshine (M. Gunn)
8. No Songs Left to Sing (M. Gunn)
9. A Lil Bit O'Love (M. Gunn)
10. Wild Mountain Thyme (F. McPeake)
11. Healy Pass (M. Gunn)
12. Gypsy Rover (Trad.)
Marc Gunn is available for interviews concerning this project, Celtic music, podcasting and independent music in general.
###