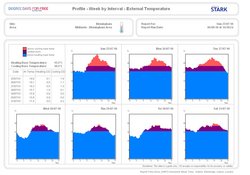 Stark's degree day data is far more timely and accurate than anything that's been available previously.
Horley, UK (PRWeb UK) September 5, 2010
From today, Stark is making its day + 1 degree day data freely available through its new website, http://www.degreedaysforfree.co.uk. The use of degree day data in analysing weather-related energy consumption is an essential part of any energy management programme.
Stark's degree day data represents a new generation of degree day information, as it is based on half hourly temperature readings and is calculated from the previous day's data. Until now, most published degree day data has been based on a single monthly value which is made available over a month later. As a result, Stark's degree day data is far more timely and accurate than anything that's been available previously.
To capture its degree day data, Stark has divided the UK into 90 localised zones, instead of the current 18 regional areas. The data is collected from 300 temperature sensors, the majority of which are located in urban and suburban areas.
The main problem with most existing degree day data is that it is based on only one base temperature: 15.5oC. However, since different buildings are heated to different temperatures, and since heat gain also varies greatly from building to building, a one-temperature-fits-all approach doesn't work if you want to be accurate in your degree day data calculations. Stark makes available three sets of base temperatures for cooling degree days and three sets for heating degree days.
Managing Director, Howard Stark, says: "With the pressing need for energy efficiency improvements, every building manager needs to get a much better handle on day-to-day building energy performance and be able to forecast energy usage with confidence. The degree day data we're making freely available now makes this possible. You can access our free degree day information by logging onto http://www.degreedaysforfree.co.uk and choosing your location. And, once you've downloaded our degree day information, based on yesterday's temperature in your town or city, you can use it with your own M&T software or with our web-based energy reporting service, SavenergyOnline."
With the recent introduction of the CRC Energy Efficiency Scheme, there is a greater need for better forecasting models for energy consumption. Such daily degree day data based on local and timely half hourly temperature readings will be an essential component in any building manager or energy manager's analytical toolkit.
ends
Note to Editors
About Stark
Stark develops and sells a range of innovative products and services that help organisations to eliminate energy waste, cut energy costs, reduce emissions, climb the CRC Energy Efficiency league table and get rid of estimated billing.
About Degree Days
Degree day data is information that tells you how cold (or hot) the weather has been in any one particular area. Degree day data is calculated by finding the difference between the outside temperature and a base temperature. (A base temperature – usually 15.5oC – is defined as the outside temperature at which an individual building starts to need heating in the winter or cooling in the summer.) Degree day data is used to calculate how the air temperature affects the amount of energy that a building needs to heat or cool it.
###