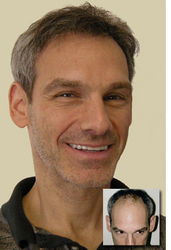 "While others have only attempted, Nu/Hart has successfully emerged as a true world leader.." - Mac Fadra, Executive Director
Pittsburgh, PA (PRWEB) September 3, 2010
The doctors at Nu/Hart Hair Clinics, a world leader in hair restoration, have performed a mega hair transplant session using the most advanced no-stitch, small incision hair transplant technique called Neografting, also known as Follicular Unit Extraction (FUE).
Traditionally, hair transplant has been performed by taking a strip of tissue and hair from the back and sides of the head and dissecting into individual hair grafts to be transplanted into the thinning and balding areas.
In contrast, the Neografting / FUE procedure transplants individual follicular units, one by one, from the donor to the recipient areas without removing a strip of tissue, thereby eliminating the need for stitches and suture removal a week following the procedure
The healing process following FUE is more rapid and comfortable to the client.
This Neografting procedure was performed at Nu/Hart's Pittsburgh clinic by Dr. Peter Dickinson, a veteran hair transplant physician and Diplomate of the American Board of Hair Restoration Surgery. He has performed over 3,000 hair restoration procedures over the past decade and trained several new physicians on hair transplant techniques.
During the session, 2,500 follicular units were transplanted. Each follicular unit typically contains one to three hairs, occasionally four which translates into roughly 7,500 hairs for this client.
Several other doctors at Nu/Hart perform this procedure both in the U.S. as well as overseas.
According to Kathy Smith, President of Nu/Hart, "Our organization has invested several years of research on testing seven different follicular unit extraction (FUE) instruments as well as designing our Neografting treatment protocols to extract and transplant the maximum number of follicular units in a timely manner."
The ultimate benefit of this technique is a happier client who can receive a large number of follicular units in a single session, rapid healing, no visible scars, and no stitches, and in many cases no shaving of the donor area.
Neografting or FUE may be equivalent to the revolution in the ophthalmic industry when no stitch, small incision cataract surgery was introduced to replace the old stitch and suture method.
Hair transplantation is now an affordable procedure, particularly with the availability of zero interest financing in the U.S. market.
Nu/Hart has been in existence for over 20 years and has eleven hair transplant centers including Pittsburgh, Chicago, New York, Atlanta, Philadelphia as well as several international locations including Puerto Rico, London, Dubai, Mumbai, Manila and Hong Kong.
Nu/Hart physicians have performed over 30,000 individual hair restoration procedures on clients from over 40 countries.
According to Mac Fadra, Director of Cosmetic Medical Partners, "While others have only attempted, Nu/Hart has successfully emerged as a true world leader in this sector, having established centers in key global markets and world financial centers while remaining on the cutting edge of hair transplant technology."
For further information, visit the Nu/Hart web site or call them at 1-800-776-7775 or email info(at)nuhart(dot)com.
###