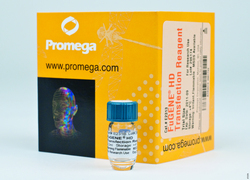 Madison, WI, USA (PRWEB) September 1, 2010
Promega Corporation announces it will provide FuGENE® HD Transfection Reagent throughout the life science market. The comprehensive, direct use offering from Promega means any life scientist can utilize FuGENE technology with no licensing requirements. FuGENE HD enables the transfection of DNA into many cell types with high efficiency and little-to-no toxicity.
FuGENE HD easily integrates with the sensitive luciferase reporter assays and other cell-based reporter systems offered by Promega including HaloTag® technology for protein manipulation and the GloSensor™ live-cell sensor technology. "FuGENE HD means robust performance and ease in handling. Pairing this industry standard gene delivery technology with luciferase reporter assays and other relevant Promega detection technologies will enable manipulation of biological models that better represent native biological systems of interest," said Kevin Kopish, Strategic Marketing Manager at Promega.
FuGENE HD also has benefits that render it ideal for use in biopharmaceutical drug discovery. With excellent performance in chemically defined media and being free of animal-derived components, this transfection reagent can be used for protein or virus manufacturing at bench-level research to full-scale biologics production.
FuGENE is a registered trademark of Fugent, LLC, USA.
Promega Corporation is a leader in providing innovative solutions and technical support to the life sciences industry. The company's 2,000 products enable scientists worldwide to advance their knowledge in genomics, proteomics, cellular analysis, molecular diagnostics and human identification. Founded in 1978, the company is headquartered in Madison, WI, USA with branches in 14 countries and over 50 global distributors. For more information about Promega, visit http://www.promega.com.
###