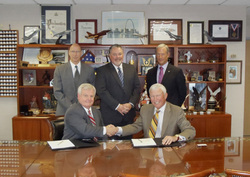 The air medical service they provide is priceless.
Birmingham, AL (PRWEB) September 1, 2010
AirMed International, the country's leading air ambulance company, announced today the endorsement and recommendation of AirMed's membership program by the Armed Forces Benefit Association (http://www.afba.com). AFBA will offer discounts on annual AirMed Traveler memberships for AFBA members and their families, adding AirMed to the impressive list of alliances and benefits for over 345,000 members.
"We are very pleased to offer this valuable service to members of AFBA and their families," said General Ralph E. Eberhart, USAF (Ret.), Chairman and President, AFBA. "AirMed has a strong record of helping those in need. The service they provide is unique and priceless – if and when needed."
AFBA was established in 1947 as a non-profit voluntary membership association under the guidance of the Chief of Staff, General of the Army Dwight D. Eisenhower. Its mission was to provide low cost life insurance and other related benefits, without a wartime exclusion to persons in the Uniformed Services of the United States. Over the years the AFBA mission has broadened to also promote the general welfare and economic interests of its members and their families by providing superior benefits and services.
Membership in AFBA today is available to all members of the Uniformed Military Services; Department of Defense, Department of Homeland Security and other Federal Government employees; Contractor Employees in support of the Uniformed Military Services; State and Local Employees (to include Police Officers, Firefighters and other First Responders); and their families.
Whether you're traveling within the U.S. or internationally, an AirMed membership includes air medical transport if you are hospitalized more than 150 miles from home. AirMed provides world class transportation on its cutting edge medical jets and the most experienced medical teams in the air—bedside to bedside. Trusted by the Mayo Clinic and contracted by the U.S. Department of Defense, AirMed provides service to more than 1 million members in North America.
AirMed members pay no out-of-pocket costs or co-pays; there are no financial limitations and no 'medical necessity' requirements. An AirMed membership uniquely brings patients to the hospital of their choice, not to the "nearest appropriate facility" as is the case of most travel insurance programs, health plans and premium card services.
About the Air Ambulance Company AirMed International
AirMed International is the country's leading air ambulance company, offering unparalleled medical care and bedside-to-bedside transportation on a worldwide basis. AirMed has been chosen as air medical transport for the nation's leading hospitals, including the renowned Mayo Clinic, and is a contracted carrier for the U.S. Department of Defense. AirMed's membership program--AirMed Traveler--gets you back home if you are hospitalized while traveling more than 150 miles from home. For more information about AirMed International, see our website at airmed.com.
More about AFBA
AFBA has over 345,000 members and associate members with $37 billion of insurance in force. AFBA is under the leadership of a Board of Directors of retired senior flag and non-commissioned officers who continue to honor the mission set forth by its founders. http://www.afba.com.
###