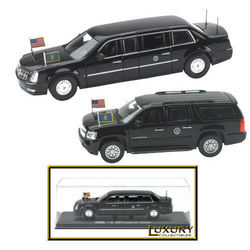 "Luxury Collectibles will quickly become one of the world's most recognizable brands of collectible memorabilia."
Fort Lauderdale, FL (PRWEB) September 1, 2010
Luxury Die Cast, LLC has released it's die cast metal models of the 2009 United States Presidential Motorcade. These brand new releases from Luxury Collectibles are fully licensed by both General Motors and The United States Government.
Luxury Collectibles from Luxury Die Cast LLC re-creates the 2009 Presidential Motorcade with authentic realism and outstanding attention to detail. Features include rolling rubber wheels, opening front and rear doors, wood-look interior, twin rear antennae, identifying flags and the front and rear license plates that adorned the cars on Barack Obama's first trip down Pennsylvania Avenue. All of these features and more are packed into these amazing miniatures. The Cadillac Presidential Limousine measures 6.5 inches long and the Chevrolet Suburban Presidential Armored Escort measures 5.5 inches long. Both models come complete with a clear covered display stands for years of proud and protected display.
The first of these highly collectible models in 43rd scale pays homage to the new 2009 Cadillac DTS Presidential Limousine first used by Barack Obama during his inaugural parade in January, 2009. The limousine was developed under the Cadillac brand by General Motors in concert with the United States Secret Service to meet the rigorous demands for security and protection necessary for the transportation of the President of The United States in a post 9-11 world. The 2009 Cadillac Presidential Limousine is built on a GMC truck chassis with a DTS body and a signature Cadillac Escalade front grille.
Not only does this incredible limousine, nick-named "The Beast" by it's Secret Service contingent, provide the President with armored security from attack and contain all the high-tech gadgetry for modern communications, but while doing so it lives up to the standards of comfort for which the Cadillac brand is so famous. Manufactured to exacting and top-secret capabilities, the 2009 Cadillac Presidential Limousine is the latest in a long and proud line of Cadillac Limousines that have carried United States Presidents at home and abroad since William Taft rode in the first Cadillac Presidential Vehicle in 1907.
In addition to the Cadillac Presidential Limousine, Luxury Collectibles offers the iconic 2009 Chevrolet Suburban Presidential Armored Escort that accompanies the President in his motorcade. The Suburban carries some of the Secret Service contingent charged with protecting the President as well as an array of top-secret defenses and armaments. The model of the 2009 Chevrolet Suburban Presidential Armored Escort is built with many of the same features as the Limousine. Luxury Collectibles' Suburban Presidential Armored Escort completes a faithful diorama of one of the most historic Presidential Motorcades the world has ever seen.
Luxury Die Cast, LLC, a company with showrooms on New York's Fifth Avenue, is dedicated to producing quality, collectible memorabilia representing the world's most iconic, luxurious and unique vehicles.
"Luxury Collectibles will quickly become one of the world's most recognizable brands of collectible memorabilia," says Luxury Vice President Drew Heitner. "Although our premier release of the 2009 Presidential Motorcade collectibles has been a tremendous success that continues to enjoy fantastic reception from collectors, retailers and distributors in the United States and overseas, we are not standing on our laurels for one minute. The rest of the Luxury Collectibles premiere wave of products can be seen on our website http://www.luxury-collectibles.com. In addition, we have big plans for more Presidential Limousines and other elite vehicles that we will preview at our stand at the iHobby Expo in Chicago this October, and at the Spielwarenmesse International Toy Fair in Nurnberg, Germany in February."
Luxury Collectibles uses the slogan "Own your piece of History!" to underscore the fact that the 2009 Presidential Motorcade vehicles from Luxury Collectibles commemorate an historic moment of American History.
Luxury Collectibles models are available at FAO Schwarz, through your favorite hobby retailer, and directly from the Luxury website. Or you can contact Drew Heitner for more information by calling 866-411-4LUX (4589).
###