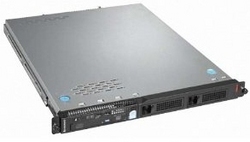 Our new FTS is the most cost effective way of avoiding audio and video issues through firewalls, and our dual port solution can fit seamlessly into almost any network architecture.
(PRWEB) September 6, 2010
VideoCentric's new Video Firewall Traversal Server (FTS) is based on a dual port Linux engine with a public IP address for the internet side and a private one for the LAN/VPN side, allowing private IP users the ability to make internal calls on their own network as well as to securely make and receive external video calls to and from internet users without the need to open or close ports or to reconfigure endpoints between private and public networks.
Simplification of dialling is also achieved by associating the FTS with an internet domain name server (DNS) meaning that incoming internet callers can simply dial by name such as john.smith@mycompany.net to securely route through to a desktop Videoconferencing system, rather than having to remember awkward IP addresses. Alternatively LAN/VPN users can dial by short code eg 6789, as translation between dialled digits and IP address is performed automatically by E.164 translation performed by FTS's embedded Gatekeepers.
FTS is shipping from 1st September 2010. Demonstration units are already available and pricing starts at just £1,999 for a dual port server.
About VideoCentric
VideoCentric is a leading UK integrator & reseller of H.323 and SIP video conferencing and MPEG streaming solutions from Cisco (including Tandberg and Codian), RADVision, Polycom, Emblaze-VCON, Lifesize and Exterity. Headquartered in Wokingham near London, VideoCentric's 1080P internet demonstration facilities extend through to its office in Edinburgh, Scotland and coverage of the South West of England and Wales is achieved through experienced staff in Bristol. VideoCentric's complete Unified Communications (UC) solutions are implemented through its relationships with strategic partners of Cisco, Avaya, Microsoft, HP and Asterisk bringing together complete convergence of IP telephony, VoIP and desktop presence not only at the desktop but also into the professional boardroom where video conferencing systems and telepresence suites can now be integrated into one total UC solution.
Value added services offered by VideoCentric include free on-site demonstrations, long-term rental, short-term hire, installation, maintenance, training, managed multipoint service, SDSL and ISDN lines and 24x7 video dial-in support. For more information, visit http://www.videocentric.co.uk or telephone 0118 9798910 (England/Wales) or 0131 473 2351 (Scotland) to talk to a video communications or UC specialist.
###