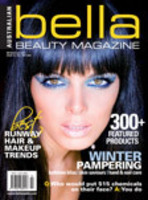 The Zinio digital newsstand makes our content more accessible to our local readership as well as to a new global market eager to explore authoritative articles about plastic surgery, cosmetic enhancement and beauty via their iPhone, iPad, Mac or PC
(PRWEB) September 16, 2010
Australian company Bella Media has entered the global magazine market by integrating its stable of print magazines with digital online newsstand, Zinio. Recognizing the importance of a digital presence for specialist publishers, Bella Media is now offering Australian Cosmetic Surgery Magazine, Bella Beauty Magazine and the Definitive Guide series on Zinio, allowing readers to access these publications on their iPhone, iPad, PC or Mac.
With more than 12 years of experience in the cosmetic surgery and beauty industry and with a rapidly growing social media presence, specialist medical and beauty publisher Bella Media cements its position as the authoritative information source and leader in its field by expanding its readership on Zinio.
Zinio is the largest online newsstand in the world and transforms print magazines into digital formats. Bella Media has found in order to meet the needs of a global marketplace, publishers need to adopt an integrated digital strategy to remain competitive and viable in this ever-changing publishing environment. The interactive digital platform infinitely broadens the traditional constraints of print media, offering readers the best of both worlds - the tangible experience of reading an actual publication and the convenience of flicking through the pages of a virtual magazine.
Michelle Kearney, Managing Director of Bella Media and publisher of Australian Cosmetic Surgery Magazine, Bella Beauty Magazine and the Definitive Guide series, says: "Zinio makes the simple act of reading a magazine a full multimedia experience, with integrated live links allowing readers to click straight through to associated websites, watch videos or interact within social media communities. We're excited to be putting our publications onto this international platform – it's a natural extension to our growing online presence on Facebook, Twitter and our online beauty portal http://www.cosmeticbeautydirectory.com.au. Readers all over the world can now click through to videos, blogs, photo streams and profile pages as they thumb through the latest beauty and cosmetic news on whatever device they prefer.
"The Zinio digital newsstand makes content more accessible to our local readership as well as a new global market eager to explore detailed and authoritative articles about the world of cosmetic enhancement and beauty via their iPhone, iPad, Mac or PC."
Click here to view samples of Bella Media's publications on Zinio:
]http://au.zinio.com/browse/publications/index.jsp?productId=500598719&sch=true
http://au.zinio.com/browse/publications/index.jsp?productId=500598722&sch=true
Australian Cosmetic Surgery Magazine provides its readers with in-depth articles on the latest techniques and technologies in the world of cosmetic enhancement. Containing information about cosmetic surgery procedures and related treatments, each issue provides readers with doctor interviews and detailed descriptions of what to expect before, during and after a cosmetic procedure, complete with untouched before-and-after photos.
The Definitive Guide series contains everything prospective cosmetic enhancement patients need to know about the most popular cosmetic procedures. Issues include Breast Augmentation, Rhinoplasty, Facial Surgery, Non-surgical Facial Rejuvenation, Liposuction and Body Contouring and Cosmetic Dentistry. Each issue is a complete go-to guide for specific cosmetic procedures and areas of cosmetic medicine, including procedural details, options, risks and patient experiences.
Bella Beauty Magazine's vivacious attitude inspires readers to their beauty best. Entertaining and informative, it's a must-read for lovers of beauty who want to know what's happening – whether it's on the catwalk or what's landed in their makeup bag. From luxe new products and the hottest trends to anti-ageing and skincare treatments, Bella Beauty has got it covered. It offers a guide to the cosmetics counters, as well as upbeat and thought-provoking features and vital health and wellbeing advice.
Cosmetic Beauty Directory – http://www.cosmeticbeautydirectory.com.au – places the world of beauty and self-improvement at everyone's fingertips. This online beauty portal unites beauty devotees, salon professionals, cosmetic practitioners, and offers a comprehensive guide to all things cosmetic surgery, enhancement, health and beauty.
Follow us on Twitter http://twitter.com/cosmetic_beauty/
or become a Facebook fan!
http://www.facebook.com/pages/Australian-Cosmetic-Surgery-Magazine/302777496307?ref=mf
http://www.facebook.com/pages/Cosmetic-Beauty-Directory/342950492221?ref=mf
http://www.facebook.com/pages/Bella-Beauty-Magazine/295160619772?v=info&ref=search
###