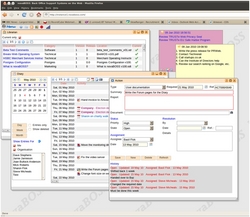 Cambridge UK (PRWeb UK) September 1, 2010
novaBOSS is a new software service bringing all business-related information together in one place and allow the user to manage information uniquely for each organisation.
The system is web-based, allowing information to be available when needed. Everything is provided and hosted on novaBoss servers, meaning additional software installations, backups, or general system administration is not necessary. If the client has access to a browser and an internet connection, then novaBOSS is ready and available.
Try out novaBOSS at http://demo.novaboss.com. This fully functional demonstrator of the system will show potential clients all the applications that come with this package. New clients can also sign up for one free month's use of the system – commitment free.
novaBOSS comprises a number of fully-integrated back office applications designed to make working life easier. The subscription includes four suites of applications – Collaboration, Events, Time Management and Personal Views.
Collaboration is a set of applications designed to foster collaboration between users, such as diaries, to-do lists, contacts and whereabouts.
The Events applications are for recording and sharing time-based events like actions, requirements and incidents.
The Time Management suite of applications allow the user to create projects, activities and roles, against which users can record their time, and a set of reports allow clients to generate timesheets for invoicing or to monitor progress against plan.
The Personal View has been designed so each user can see anything recorded on novaBOSS with their name against it – they can also record timesheets and expenses, and use the on-screen sticky notes to record any vital nuggets of information. More applications are added regularly and are included in the cost of the subscription.
novaBOSS is web based, meaning applications and data are available to all users in an organisation at any time of day or night, and from any location. novaBOSS is a hosted service, making technical knowledge unnecessary. This means that novaBOSS provides the servers and installs the software that the applications need to run. We also make sure all data is secure and backed up on an hourly basis.
To make the applications easier to use, novaBOSS has adopted a "Windows" look and feel for the Web. Rather than a standard web based system which displays one page at a time, novaBOSS has a look and feel that is similar to a Windows or Mac interface. This allows the client to open many forms at the same time, which can be moved around the screen at any time to help suit any function being performed.
For more information please contact us at info(at)novaboss(dot)com, or visit us at http://www.novaboss.com.
###