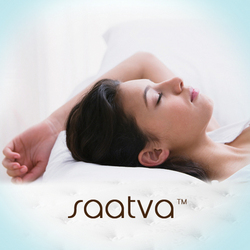 "Purchasing a Saatva mattress is stress-free by ordering direct online. Customers can experience the luxurious feel of our mattresses in the comfort of their own home; if they aren't satisfied, we'll gladly take it back." Ron Rudzin, Saatva.
New York, NY (PRWEB) September 1, 2010
Saatva is the first luxury mattress company to operate exclusively online. The company spent more than two years creating a luxury mattress that will provide universal comfort. The top portions of the mattresses have individual pocketed coils which have been designed to contour perfectly to any body weight, shape or sleeping position. And, Saatva's "no-store" philosophy allows customers to save up to 70% off of store prices.
Modeled after the mattresses found in the world's finest hotels, Saatva provides the perfect balance of gentle firmness and ultimate comfort. More than two years in the making, Saatva luxury mattresses feature a unique combination of the most advanced design in Euro pillow top mattresses and state-of-the-art, coil-on-coil design providing universal comfort. The top portion of Saatva mattresses feature individual pocketed coils that contour perfectly to any body weight, shape or sleeping position. Consumers may choose from two styles of Saatva mattresses—the 14 ½" Premiere Luxury Mattress or the 11 ½" Custom Slim Luxury Mattress.
Visit http://saatvamattress.com and view the interactive mattress tour.
Management is so sure the public will be thrilled with Saatva luxury mattresses that they offer a 30 day money back guarantee. "We know a buyer can't decide if a mattress is right for them by lying on it for a few minutes in a store," says Ron Rudzin, president, Saatva. "Our experience is that customer's love our mattress when sleeping on it in the comfort of their own home. If you don't love your mattress, for any reason, you may return it within 30 days of delivery."
Saatva's "no-store" philosophy allows the company to save on rent, overhead and high sales commissions. This enables consumers to save up to $1,400 on comparable queen sized luxury mattress sets sold in traditional retail environments.
An eco-friendly product, the mattresses' outer cover is made from organic cotton, the inner springs are constructed from recycled steel rods and the tempur-foam top is made from a safe, bio-based foam.
Saatva luxury mattresses are available 24/7, 365 days on http://www.saatvamattress.com. Delivery is available in the greater Boston, New York, Philadelphia and Washington DC areas, as well as Connecticut, New Jersey and Rhode Island. To determine shipping availability, consumers may input their zip code on the Saatva site.
"Saatva brings affordable, five-star luxury to mattress design without the hassle and stress of shopping in a traditional mattress store," adds Ron Rudzin. "After listening to consumers' complaints and concerns, we think we have designed the world's perfect luxury mattress at an irresistible price."
###