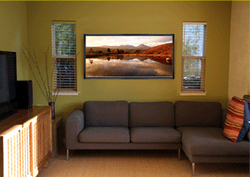 Acworth, GA (PRWEB) September 8, 2010
After only 18 months on the market, the new Feel Good Light Lenses give rise to companion Feel Good Photos WallArt, spreading good cheer from wall-to-wall-to-ceiling.
In a bid to spread more of the good cheer generated by their successful Feel Good Light Ups Light Lenses, The Flag Company, Inc. announces it newest, companion product, Feel Good Photos WallArt, contemporary interior decorative wall pieces that coordinate with Light Ups ceiling art.
Just added to their product line, Feel Good Photos WallArt can complete a room's decorative theme exhibited by a Feel Good Light Ups Light Lens ceiling art piece. An indoors "clouds-in-the sky" effect from a ceiling Light Lens insert, for example, can be continued in a companion theme via a mounted framed WallArt piece of the same, or similar scene.
These Feel Good Photos WallArt standalone pieces come in three choices of quality metallic frames—black, silver, gold—and are available in an initial series of designs ready to go, ranging from airplanes, art, and astronomy, to balloons, clouds, and trees, all sized at 24" x 48". However, because the WallArt pieces use the same inserts as the Light Ups lenses, there are actually hundreds of scenes to choose from that can be easily adapted into a WallArt frame, allowing unlimited possibilities for all decorative whims.
With the success of their Feel Good Light Ups Light Lenses launched 18 months ago, The Flag Company decided to take their ceiling art one step further, creating this decorative arena "in-the-round" from wall-to-wall-to-ceiling. View unlimited combinations and details on their new website http://www.feelgoodlightups.com.
"We have been very pleased with the success of our Feel Good Light Ups Light Lenses and our new WallArt photos make great companion pieces—a perfect fit for a complete room decor," says Mike Lawrence, Vice President of The Flag Company, Inc.
Priced for affordability, these cheerful WallArt photos cost only $79, often the price of a simple frame. The Feel Good Light Ups sell for $32 each. For customers who have their own ideas about things, custom WallArt can also be made from a high-resolution photo or artwork for the same cost of $79 plus a set-up charge.
Similar to the Light Ups Light Lenses, the WallArt photos are a perfect solution for decorating such venues as schools, medical facilities, day care centers, pet centers, and conference rooms. They are also ideal used as educational tools.
About The Flag Company, Inc.:
The Flag Company, Inc. offers a complete range of flags and flag-related products. Custom screen printing and digital printing are available for special events, corporate logos, etc. Stock merchandise includes U.S., states, international, and military flags and all types of accessories such as bunting, memorial cases, pennants and more. The Flag Company, Inc. is the nation's largest producer of message flags, offering over 300 different messages, which are used by realtors, restaurants, car dealerships, and any host of companies imaginable. A constant hot item is toothpick flags—in stock and available for state, countries, and holidays and produced on a custom-order basis for corporations and special events. The complete product line can be viewed at the website http://www.flagco.com.
###