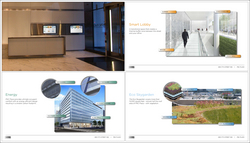 Navigo easily integrates with any décor and is user friendly. The fact that Navigo helps earn an additional LEED Point is a bonus for the managers and tenants.
Crofton, MD (PRWEB) September 8, 2010
It's easy to be Green. Interactive Touchscreen Solutions, Inc.'s Navigo® Suite of Products makes those first steps simple with multiple user-friendly digital answers.
ITS's Building Directory, Hospital Wayfinding and Active Signage solutions help new and existing buildings take another step toward earning additional LEED points, such as the Navigo Solutions installed at 1899 Wynkoop (CO), Progress Point (MO), and PNC Bank Building (DC).
Little steps to become more energy efficient and Earth-friendly lead to big accomplishments in the overall picture of achieving environmental responsibility.
1899 Wynkoop in lower downtown Denver first installed the Navigo Touchscreen Directory System in 2000. The facility recently received LEED Gold designation from the U.S. Green Building Council. As part of the requirements, the building must offer education to tenants on how they can reduce their carbon foot print at the office.
"1899 Wynkoop is truly a high performance building and we want to set the highest environmental standard for this signature office building" said Randy Nichols, Owner. The software package created by Interactive Touchscreen Solutions was modified to communicate the progress of the LEED-EBOM process and currently displays the steps that were taken to reduce the building's carbon footprint and achieve LEED Gold certification, he added.
With the help of ITS's sales team and project managers, your Navigo Solution's visual presentations or interactive presentations are customized highlighting your specific and planned LEED efforts.
The Navigo touchscreen directory system installed at Progress Point (MO) aided in the structure earning the Building of America's award for exceptional environmental standards.
http://www.buildingofamerica.com/news/articles/cd/0410/progresspoint/index.html
The Navigo Suite of Products uses Energy Star rated hardware components. Navigo solutions allow the building owner or property manager to prominently display their LEED status and goals on the system's screen, thus earning a point on the LEED rating system.
Navigo solutions offer a unique combination of being cost-effective and user-friendly. Our systems operate as a means of general communication through notifications, advertising and tickers displaying current news, stock and weather information.
"Earning LEED Points is essential for buildings to become certified, but with Navigo Solutions, it's like getting a two-for-one benefit," said Natalie Bobila, Vice President of Sales & Marketing. "Many property managers are looking to update their existing out-of-date static directories with digital, and new buildings are installing state-of-the-art digital systems automatically. Navigo easily integrates with any décor and is user friendly. The fact that Navigo helps earn an additional LEED Point is a bonus for the managers and tenants."
New clients incorporating the Navigo Solutions are thrilled to highlight their environmental efforts from the concept stage. However, clients who have been using the system for years are eager to update their systems to showcase their LEED features as well.
The U.S. Green Building Council describes the Leadership in Energy and Environmental Design (LEED) Green Building Rating System as a means to encourage and accelerate global adoption of sustainable green building and development practices through the creation and implementation of universally understood and accepted tools and performance criteria.
Interactive Touchscreen Solutions, Inc. provides touchscreen directories and digital signage for Corporate Buildings, Hospitals, Government & Private Facilities, Universities, Museums and other Public Buildings. Interactive Touchscreen Solutions, Inc. product line, Navigo includes solutions for Wayfinding, Digital Signage and Visitor Badging/Processing. For more information on recent installations and general product information, please contact Interactive Touchscreen Solutions, Inc at (800) 652-4830.
###