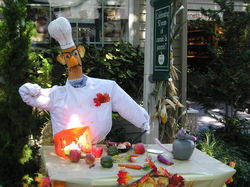 "For over 50 years we have been preserving the bounty of Lancaster County in our Jam & Relish Kitchen...and celebrating the area's wonderful heritage with food festivals and special events." Pat Burnley, Co-Founder
Intercourse, PA (PRWEB) September 1, 2010
Kitchen Kettle Village announces the line-up for this year's 36th Annual Seven Sweets and Sours Tailgate Festival on September 17th and 18th. The Festival, which represents the traditional preservation of this year's harvest and officially kick's off the Fall tailgating season, is a celebration of eating, cooking, music and sports fun. Events include Pumpkin Bowling, a Whoopie Pie Filling Contest, sports-themed Scarecrow Competition, quilting demonstrations, food sampling, Bluegrass and '50's bebopping, plus a special visit from "Swoop" the mascot for the Philadelphia Eagles.
Additionally, this year's festival, sponsored by WAWA, will include samplings of tailgate and other harvest products, a pumpkin carving demonstration in which pumpkins are transformed into works of art, an Old Fashioned Cider Press Display, balloon twisting from "The Balunguy" and KKV's own, Banjo Jimmy & his Sidemen.
The two day long Festival will start at 9:00am and end at 6:00pm. As always, parking and admission is free. For more information, please visit http://www.kitchenkettle.com or call (800) 732-3538 or (717) 768-8261.
Located in the beautiful Pennsylvania Dutch countryside, Kitchen Kettle Village has been entertaining visitors from all over the world for more than 50 years. With 32 unique specialty shops, nine delicious restaurants and eateries, charming lodging and, of course, the famous Jam & Relish Kitchen, guests can watch local farm women putting up more than 80 original recipes of jams, jellies and relishes in large open kettles, take a carriage ride or enjoy the free seasonal festivals and year round family events. Conveniently located on Route 340 in the Village of Intercourse, Pennsylvania (10 miles east of Lancaster and less than two hours from Philadelphia and Baltimore), Kitchen Kettle Village is the ideal destination for the guest who wants a tasty Village experience. For more information, please visit http://www.kitchenkettle.com or call (800) 732-3538 or (717) 768-8261.
###