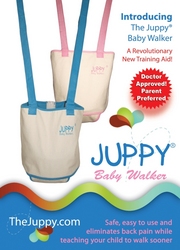 Las Vegas, NV (PRWEB) September 1, 2010
The Juppy Baby Walker is a non-traditional parent-assisted baby walker used to teach babies how to walk sooner. It lets the baby learn balance on their own while giving the baby confidence of knowing mom or dad are right there! And all the time enabling the parent to avoid putting stress and strain on their backs. The Juppy Baby Walker has been reviewed and approved by a multitude of mom bloggers that are in agreement that The Juppy Baby Walker is an essential tool when assisting the baby to walk because its easy to use anywhere:
-Indoors, outdoors, the park, the beach and anywhere.
-Available in blue for boys and pink for girls.
-Adjustable straps for the best fit and height of parent.
-Easily transportable.
-Safe and comfortable design with zip back and padded vest.
-Made from high quality durable fabric.
-Easy to clean.
-Eliminates possible injury to the child.
The Juppy Baby Walker is very proud to announce that the Juppy has been instrumental in assisting children with learning disabilities that find walking a challenge. The Juppy remains an astonishing good buy at the unbelievable price of $24.95 ($5.00 off the original price of $29.95). The CEO of Juppy LLC, Jeffrey Nash is adamant about the fact that every parent be able to afford The Juppy Baby Walker and so for that reason the very simple, useful and thoughtful Juppy Baby Walker that is a great baby shower gift will remain affordable to the masses.
###