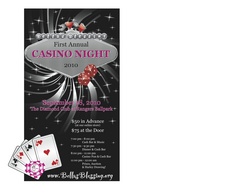 Choosing between work and caring for their sick child is just not an option."
Arlington, Texas (PRWEB) September 1, 2010
According to the National Childhood Cancer Foundation, one in every four elementary schools has a child with cancer. While many children are cured, there are still many children who die. Considering this static, imagine what it would be like to go through the process of caring for a sick child with no Government help, because they think you make too much money. Thousands of families who have a sick child are hit with this burden everyday.
Lisa Adkinson, Founder/President of Bella's Blessing Foundation has been through this very situation. Her foundation was named after her daughter, Isabella Faith Adkinson who was diagnosed with Grade II Astrocytoma on her brain stem. After a rare and complicated surgery she fought hard to recover but was hit with H1N1 when society was short on vaccines. "We were able to be with Bella during her last moments, and held her tight as she passed on to Heaven at only 16 months old." Lisa said. "Bella was beautiful little girl." Lisa went on to say" She had a spirit so uniquely her that even after battling a brain tumor at only 9 months old Bella just made you smile."
After Bella's passing Lisa knew that she is not the only parent that has ever lost a child. There are so many who walk around with this burden. Lisa has made a conscious choice to try and make something positive come out of this agonizing loss. She decided to start a foundation to help families who cannot get government assistance. In her first six months the foundation helped approximately 75 families. They help with everything from food, gas money to thousands of dollars for medicines, utility bills and mortgage payments. According to Lisa," In many ways we are the only hope for assistance. These are all hard working families who do not rely on the system to support them, but are facing the unthinkable-a very sick child." She went on to state," Choosing between work and caring for their sick child is just not an option." Many of families her foundation helps still have their income, but are hit with the unexpected medical bills, medicine, and travel and care expenses.
On September 18, 2010 Bella's Blessing Foundation is hosting their 1st Annul Casino Night in the Diamond Club inside Rangers Ballpark. There will be a silent auction where you will be able to bid on anything from autographs to exclusive vacation packages. A highlight for the evening with be a 2006 Harley Davidson that will be raffled off for only 100.00 per raffle ticket. Tickets to this event can be found online at http://www.bellasblessing.com for 50.00 or 75.00 at the door. Doors will open a 7pm to midnight.
"We are really excited about this event and how much it will help families in need." Lisa said. "It's in Bella's honor and because of her wonderful blessings in our life, that we are reaching out to help families while they care for their sick children."
# # #