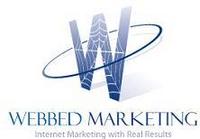 I am thrilled to work at Webbed Marketing with such great people in a very fast-moving industry
Columbus, OH (Vocus) September 2, 2010
Webbed Marketing, a social media marketing and search engine optimization company in central Ohio, hired Jackie Trexel, senior account manager, and Steve DiMatteo, web content specialist, to join the team.
Since its founding in 2006, Webbed Marketing has been expanding in clients and employees each year. Trexel joins the Webbed Marketing team as a senior account manager. Her areas of expertise include client relationship building and management, project management, customer service, and creative and analytical skills. She has more than 17 years of experience in the banking/financial services industry, starting her career with Bank One, and later working for Chase Manhattan. Trexel then moved on to consulting, providing business-side expertise on accounting system implementations and process improvement. She moved to Cardinal Health, working in project management in the pharmaceutical distribution and nuclear pharmacy divisions, before joining Fitch, Inc. (a global design and branding firm). Her clients at Fitch, Inc. included Starbucks, Cisco, Evenflo, Coca Cola, Colgate, GE and Dell. Recently, Trexel has been consulting clients like Bank of America, Owens Corning and GSW Worldwide.
"I am thrilled to work at Webbed Marketing with such great people in a very fast-moving industry," Trexel said. "I look forward to making a positive impact on the firm by surpassing clients' expectations of what Webbed Marketing services can do for their businesses."
Trexel has lived in Powell for 13 years, and is excited for the challenge her role at Webbed Marketing will bring. Photography, especially black and white, golf, classic cars, wines, wineries and traveling to wine regions, landscaping, cooking, and reading are Trexel's other passions.
Earlier this quarter, the firm hired DiMatteo as a web content specialist. DiMatteo is a 2010 creative writing graduate from Ohio University, and writes for Dawg Pound Daily, a Cleveland Browns blog, and a movie site called FlickSided. DiMatteo also has experience writing SEO content as a freelance writer, making him an ideal fit for Webbed Marketing's fast-paced, always-changing culture.
"I love to write content and integrate that with social media practices, so it has been great utilizing these different outlets with Webbed Marketing," DiMatteo said. "I'm excited to be a part of a team that thrives on new ideas and fresh perspectives. Plus, I hope to provide a quality work that helps propel the company to new heights. It's a fun community of people I am working with, and it is great to see everyone so excited about what they are doing."
DiMatteo's fresh perspective will be a real asset to Webbed Marketing. Originally from Painesville, Ohio, which is about 30 minutes east of Cleveland, he recently moved to Worthington. Along with a new job and new residence, DiMatteo also just became the owner of a three-year-old beagle/basset hound mix named Jupiter. When he's not playing with his new dog or blogging, DiMatteo likes to visit baseball stadiums, watch bad movies and buy cassette tapes for his "seemingly out-of-date car."
"As we continue to grow at Webbed Marketing, we make it a priority to hire the best of the best in the field of online marketing," Bill Balderaz, founder and CEO of Webbed Marketing, said. "We are excited to have Jackie and Steve on board, and look forward to the expertise they will bring to our agency and our clients."
For more information about Webbed Marketing visit http://www.webbedmarketing.com.
About Webbed Marketing
Webbed Marketing is a team of experts in the Internet marketing field. Their goal is to grow businesses through the application of Internet resources. The firm specializes in search engine optimization and marketing, as well as viral marketing services, word of mouth and buzz measurement and social media strategies. Visit http://www.webbedmarketing.com for more information.
# # #