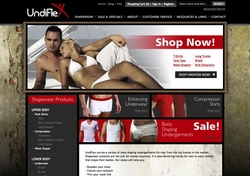 "Your man doesn't just want to smell like the Old Spice Man. He wants to look like him, too. Our new store at www.undiflex.com gives him the chance to do that."
Roselle Park, NJ (PRWEB) September 1, 2010
Compression garments for men started out in the sports category: they were something to wear while exercising. Now compression tees and shorts are something men wear to make it look as though they exercised more.
The popularity of enhancing underwear for men has been on the rise since at least 2005, when Underneath.com reported that the men's shapewear department was one of the most-visited pages on its website. The market continued to grow despite the recession, with a 9% growth in the men's underwear market from 2009 to 2010, according to the NPD group. By May 2010, when Spanx for Men launched, the retail success of garments that flatten abs and broaden chests was big enough news for the New York Times (http://www.nytimes.com/2010/05/30/fashion/30spanx.html).
Jaspreet Kaur and Jaspal Singh founded UndiFlex to serve this growing new market. "We understand body image is a sensitive topic. It's just as important to men as it is to women. They experience a sudden sense of confidence when they see that immediate change in their appearance."
UndiFlex sells a wide range of body sculpting undershirts, slimming tanks, gynecomastia shirts, compression shirts, microfiber compression tanks, boxers, briefs, super padded briefs, stretch briefs, waist eliminators, and enhancing underwear.
"After all," Kaur says, "your man doesn't just want to smell like the Old Spice Man. He wants to look like him, too. Our new store at http://www.undiflex.com gives him the chance to do that."
UndiFlex is an E-Tailer that helps men minimize their least attractive features and enhance their overall look and increase their confidence. UndiFlex carries top brand names in the shapewear market, including Go Softwear, Ript Fusion, Sculptees, and Tommy John.
Media Contact: Jaspreet Kaur, (908) 463-4116, jkaur at http://www.undiflex.com
###