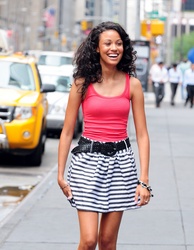 This experience with Delias and Barbizon has been life changing.
Pompano Beach, FL (PRWEB) September 1, 2010
Desiree Urena, from Raleigh, North Carolina, was chosen as this year's winner of the Barbizon Modeling / Delias Photo Shoot Contest. "I can honestly say that the photo shoot experience with Delias and Barbizon has been phenomenal and life changing."
Desiree and her mom were flown all expenses paid to New York City where Desiree enjoyed supermodel treatment from a team of stylists. One look and it was easy to see why Desiree was chosen as the winner. Believe it or not, this was her first time in front of the camera. Of course, the fashion capitol of the world is the perfect inspiration. "I'm eager and ready to begin my journey in the modeling industry. I have huge positive dreams with Barbizon to guide me and take me there."
In addition to the photo shoot, Desiree was surprised with a full scholarship to the Barbizon School of Raleigh. "I'm truly grateful for receiving the scholarship to the Barbizon School. It has added to my excitement and has left me speechless. Thank you Barbizon for helping me believe that dreams do come true."
The Barbizon Modeling Photo Shoot Contest occurs annually in New York City. Each shoot is directed by one of our partners in the fashion field.
###