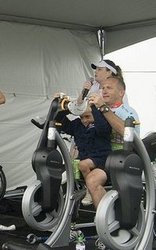 Rock on the Green brings the spirit of hope and opportunity to the Bay Area. It allows the Challenged Athletes Foundation to share the transformative power that people with physical disabilities experience when they're given access to sports and fitness.
San Francisco, CA (PRWEB) September 1, 2010
The Challenged Athletes Foundation (CAF) is set to inspire at its second annual Club One Fitness Rock on the Green, presented by Barney & Barney and Matrix. Rock on the Green is a unique fitness event to be held on September 11 in San Francisco's Marina Green. It will include more than 20 physically challenged athletes, feature some of the most compelling stories of resilience and courage in sports, and raise important funds for the Challenged Athletes Foundation. It's an event unlike any other in the Bay Area.
One of CAF's flagship events, Rock on the Green (ROTG) will fill San Francisco's picturesque bay front recreational fields with 200 Spinning® bikes and Krankcycles® for a three-hour choreographed cycling session, accompanied by 5k run, 2k walk, plus a handcycle and racing chair circuit along one of the most scenic courses in the country overlooking the Golden Gate Bridge and Alcatraz Island.
"Rock on the Green (ROTG) brings the spirit of hope and opportunity to the Bay Area," said ROTG past participant and CAF athlete, Geoff Turner. "It allows the Challenged Athletes Foundation to share the transformative power that people with physical disabilities experience when they're given access to sports and fitness. ROTG shows real people – young and old, able bodied and disabled – that when people have the right tools, they can overcome any challenge."
Some notable athletes in this years' event include:
•Bill Walton – Basketball Hall of Famer and CAF Spokesperson, Bill Walton knows how important sport is in people's lives – and he also knows what it's like to have that taken away after facing his own life threatening physical challenges that resulted in 36 orthopedic operations, fused ankles and a fused spine. Now that he has been given another chance to participate in sports and life, Bill's mission is to help others have this same opportunity.
•Greg Warrington – Born with multiple congenital birth defects, Greg had endured 28 operations by the time he was six years old. Now just 9, he is competing in his second ROTG after raising $900 for last year's event.
•Alan Shanken – A CAF board member and mentor, Alan has been a below-knee amputee since age three. He specializes in rough-water distance swims around the country, and has competed in three Escape from Alcatraz Triathlons.
•Geoff Turner – Geoff lost his right leg through the knee in a 1991 motorcycle accident, and endured six years of failed attempts at running before securing sufficient equipment. He has since completed several marathons and his first triathlon in 2008.
•Sean Simonson – An athlete and firefighter for more than 40 years, a mountain biking crash left him quadriplegic with a broken neck. Defying doctors and regaining movement, he has since competed in several marathons and triathlons, and aims to finish a Half Ironman to qualify for the US Paratriathlon Team.
•Andy May – A competitive mountain biker and cyclocross racer, Andy lost his left leg after being struck on his motorcycle by a red-light-running vehicle. Not missing a step, he has since competed in several Xterra National Championships and is an accomplished triathlete.
•Robert Spotswood – Robert was a scouted soccer star as a youth before losing his left leg in a car accident at 16 years old. Just a year later, he served as the captain of the US amputee soccer team in Ukraine at the World Championships.
•Jill Wilkinson – Jill lost her leg when a spider bite turned into a staph infection. She quickly recovered to take on the San Diego Triathlon Challenge and maintain a lifelong love of skiing and canoeing.
•Andy Sue Roth – Just five years old, Andy Sue has a below knee amputation yet continues to swim, run and ride horses.
"Last year CAF and ROTG had a profound impact on so many challenged athletes," said event founder and CAF board member, Alan Shanken. "They didn't know where or how to ask for help. Greg Warrington, a nine year old from San Ramon who walks only with crutches, immediately loved Kranking, and now, with the help of the CAF, is proud owner of his very own handcycyle."
Rock on the Green will kick off at 8 am with a moving challenged athlete introduction ceremony and a special presentation to get the inspiration of the day in full gear. The full schedule is as follows:
•7:30am – Registration opens
•8:00am – Opening Ceremonies
•8:30am -- 5k Run
•9:00am to Noon -- Spin-a-thon
•9:30am -- 2k Racing Chair and Handcycle Circuit
•10:00am -- 2k Walk
A Health and Wellness Expo will be presented throughout the morning, giving participants and spectators a way connect with the community and tools to lead healthy lifestyles.
Funds raised at ROTG will allow CAF to provide funding grants for adaptive sports equipment, as well as training and competition expenses, to even more physically challenged individuals in the future.
ROTG will be produced by Project Sport, producers of San Francisco's US Half Marathon Series, as well as the San Rafael Twilight Criterium and the Sacramento Grand Prix professional cycling races.
About the Challenged Athletes Foundation
The Challenged Athletes Foundation (CAF) is a world leader in helping individuals with physical challenges get involved – and stay involved – in sports. CAF believes that participation in sports at any level increases self-esteem, encourages independence and enhances quality of life. Since 1994, more than $25 million has been raised and almost 4,500 funding requests from challenged athletes in all 50 states and dozens of countries have been satisfied. Additionally, CAF's outreach efforts reach another 60,000 individuals each year. Whether it's a $2,500 grant for a handcycle, helping underwrite a carbon fiber running foot not covered by insurance, or arranging enthusiastic encouragement from a mentor who has triumphed over a similar challenge, CAF's mission is clear: give those with the desire to live active, athletic lifestyles every opportunity to compete in the sports they love. To learn more, log on to http://www.challengedathletes.org or call 858-866-0959.
# # #