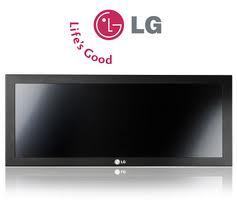 "The dynamic GoGo Cast service complements LG commercial displays, bringing businesses the right technology solution to ensure a crisp, clear display of useful and compelling information." said Jeff Dowell, vice president, digital signage, LG Electronics
Cranston, RI (PRWEB) September 1, 2010 - GoGo Cast Inc. announced today that it will co-brand its Go-
Screens™ with LG Electronics' 42-inch LCD digital signage monitors and integrated media players to deliver GoGo Cast's distinctive, targeted messaging.
"GoGo Cast's advertising solutions engage customers with meaningful and enlightening information while allowing retailers the opportunity to deliver real-time, customizable content to a captive in-store audience at point-of-purchase," said David Paolo, president and CEO of GoGo Cast. "We are excited to team with LG to provide our users with high quality, sleekly designed LCD monitors to deliver GoGo Cast's dynamic and data driven content."
Paolo explained that this alliance capitalizes on the complementary strengths of the two companies - digital signage solutions leader LG Electronics and GoGo Cast, a global leader in dynamic Digital-Out-of-Home media networks.
Understanding the needs of retailers to enhance the customer experience, GoGo Cast offers technologies designed to enable businesses to easily communicate up-to-the-minute information such as weekly specials, brand promotions, store events and local happenings to their customers. LG's commercial-grade LCD monitors offer full HD 1080p display resolution enhancing any commercial environment. LG's Super IPS technology ensures wide 178-degree viewing angles so that messaging can be easily seen.
"The evolution of advertising technology and design has led to new opportunities for effective information sharing between retailers and brands alike," said Jeff Dowell, vice president, digital signage, LG Electronics USA Business Solutions. "The dynamic GoGo Cast service complements LG commercial displays, bringing businesses the right technology solution to ensure a crisp, clear display of useful and compelling information."
GoGo Cast's dynamic content narrowcasting solution helps convenience stores and others retail locations to engage customers with meaningful and informative content. Narrowcasting uses a company's unique customer and location data to reach a captive in-store audience, delivering the right messages at precisely the right time to help assist with buying decisions.
For shoppers, the content enhances the store experience and helps them make smart purchasing decisions by increasing awareness of sale prices and special promotions. Engaging, useful information such as local traffic, weather and news and community events also can be provided.
For advertisers, the network provides additional opportunities to highlight key selling points, complementing traditional point-of-purchase advertising. Content is dynamically delivered to the LG- Go-Screens™ in key store locations
About GoGo Cast, Inc.
Headquartered in Cranston, R.I., GoGo Cast, Inc. is an on-demand, out-of-home digital media company that enables customers to directly communicate with their clientele across vertical markets. Using an aggregated network of digital media and audience-targeted content, GoGo Cast delivers direct-to-consumer advertising that enables retailers, brands, manufactures, advertisers and promoters to reach highly targeted audiences, influence brand choice and receive measurable results. With GoGo Cast's content network and commercial grade digital screens; advertisers can deliver messages that influence consumer buying decisions at the right place, at the right time. For more information, please visit http://www.gogocast.com.
CONTACTS:
GoGo Cast Inc.
Juli Dexter
877-320-GOGO
jdexter(at)gogocast(dot)com
http://www.gogocast.com
LG Electronics USA
John I. Taylor
847-941-8181
john(dot)taylor(at)lge(dot)com
http://www.lg.com
###