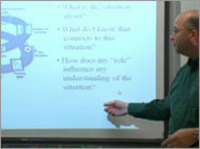 When asked to solve problems related to the job, students who have had the advantage of problem-based case learning are much better equipped and exceed the ability of students who did not.
Boston, MA (PRWEB) September 14, 2010
Innovation in Teaching and Learning for Technological Education (ITL) announces the launch of MakingLearningReal.org, a comprehensive, free resource for teachers and administrators in technical education seeking to employ inquiry-based methodology in the classroom. Imagine completing a two-year technical degree and heading out into the workplace armed with real-world experience and a portfolio of successful projects. That's the experience of students whose teachers employ the methods featured on MakingLearningReal.org. Created by leading experts in learning and cognition, this model builds on the understanding that students learn best when they are working on real problems in a project-based environment facilitated by partnerships with local businesses, which bring real-time, real-world business needs to the classroom.
Working from this industry problem, students and teachers engage in a process that embodies the whole range of experiences and skills needed to become effective in the workplace: brainstorming, proposing solutions, and then testing, revising, presenting and implementing them. This process significantly lowers the barriers typically separating the classroom from the real world while preparing students for the work world and providing them with valuable experience.
Used in secondary and post-secondary education, this model, known as Problem-Based Case Learning (PBCL), offers many benefits to students, educators, and business partners alike. PBCL developer and former dean of engineering technologies at Nashville State Community College Dr. Jim Johnson explains, "When asked to solve problems related to the job, students who have had the advantage of problem-based case learning are much better equipped and exceed the ability of students who did not." Incorporating PBCL into the classroom is "the best thing I can do to prepare my students for the world," adds Dale Rogers, Program Coordinator and Instructor for Multimedia Design at NSCC.
The benefits of the PBCL teaching model extend from the individual student to the community and on to the broader economy. Students who attended such courses demonstrate improved learning and retention of course content, transfer knowledge, skills, and attitudes to new environments and situations more effectively, and they develop problem-solving, communication, critical thinking, and teamwork skills essential in the workplace. It's not uncommon for students to describe courses taught using PBCL as among the most rewarding learning experiences they have had.
By contributing to the learning experience, business partners gain unique resources to address and resolve current business needs, as well as the opportunity to groom and recruit talent and assist in the development of a better-prepared future workforce.
To support this teaching model, MakingLearningReal.org offers free tools and resources, including:

Resources for finding and collaborating with local business partners
Guidelines for integrating business situations into the curriculum
Processes for establishing an effective structure for the learning experience
Criteria for assessing student work and deliverables
Methods for instruction that support engaged student learning
Videos provide examples of this method in action, supplemented by reflections from instructors, administrators, industry partners and students. Learn more at makinglearningreal.org.
About Making Learning Real
The Making Learning Real website is a collaboration between the Innovation in Teaching and Learning for Technological Education (ITL) project team at Nashville State Community College and the WGBH Educational Foundation. This website is one aspect of a large-scale resource development and dissemination project focused on PBCL and funded by a National Science Foundation grant. For more information about the overall project, including evaluation reports, research findings, and other project documentation, please visit MyITL.org.
About Nashville State Community College
With more than 14,500 students enrolled last year, Nashville State is the Nashville community's two-year college. Nashville State Community College is a Tennessee Board of Regents college that offers two-year Associate of Applied Science, Associate of Arts, and Associate of Science degrees, as well as academic, technical, and career advancement certificates. For more information, please visit our website at http://www.nscc.edu.
About WGBH
WGBH Boston is America's preeminent public broadcasting producer, the source of fully one-third of PBS's prime-time lineup, along with some of public television's best-known lifestyle shows and children's programs and many public radio favorites. WGBH is the number one producer of Web sites on pbs.org, one of the most trafficked dot-org websites in the world. WGBH is a pioneer in educational multimedia and in technologies and services that make media accessible to the 36 million Americans who rely on captioning or video descriptions. WGBH has been recognized with hundreds of honors: Emmys, Peabodys, duPont-Columbia Awards, and even two Oscars. In 2002, WGBH was honored with a special institutional Peabody Award for 50 years of excellence. For more information visit http://www.wgbh.org.
About the National Science Foundation
The National Science Foundation (NSF) is an independent federal agency created by Congress in 1950 to promote the progress of science; to advance the national health, prosperity, and welfare; to secure the national defense.
###