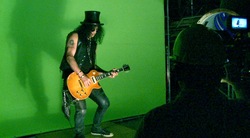 If you are going to produce an artist's 3D rock video, Slash is definitely on the top of that list.
Los Angeles, CA (PRWEB) September 1, 2010
The first video off of Slash's #1 Rock Album SLASH, which hit retail in April and has received rave reviews worldwide, has been converted into full 3D, it was announced today in a joint statement by San Diego-based 3D Production & Conversion studio PassmoreLab & Slash.
The 5-minute rock music video, "By The Sword", is the first single off the album and the first video ever from Slash to be released in 3D. It features the vocals of Andrew Stockdale of Wolfmother, and the ever-present blistering guitar work from Slash. The 3D video was released internationally today.
Slash, currently on tour promoting the album, has been on top of every aspect of the album and video process.
"Everything was cool, start to finish," said Slash. "From Andrew's vocals, to Vance directing me again, to PassmoreLab doing the 3D, it has been a killer experience and I am thrilled with it."
Vance Burberry, Director of the video in 2D, said the video was a "wonderful, four month collaboration" between he and Slash. Burberry has a long history with Slash from his Guns 'N Roses days, where he was Director of Photography on the band's "Sweet Child o'Mine", "Paradise City" and "Welcome to the Jungle" rock videos.
"On this one, we created a kind of post-apocalyptic future, where people are starved for music," says Burberry. "We end up underground in this dark, deserted power plant bunker, where Slash and the band are mesmerizing an audience. When I found out that we were doing the conversion with PassmoreLab, I thought that environment was perfect for 3D."
PassmoreLab began work on the project in May, and found the underground setting of the video was actually quite demanding. The conversion took about four weeks to complete, using PassmoreLab's proprietary conversion technology.
"It's edgy, dark and fast -- everything you would expect from Slash," said Steve Glum, PassmoreLab's head of Branding & Distribution. "Everybody in the video is hypnotized by this murky hunger for rock n roll, and the quick camera cuts, sweeping movement, and low lighting gave us a real conversion challenge. But the final 3D product is very cool."
SLASH hit the charts on April 6. Featuring an incredible lineup of rockers and vocalists like Kid Rock, Dave Grohl, Myles Kennedy, Fergie, Adam Levine, Chris Cornell, Ozzy Osbourne, Iggy Pop, and more, the album has been critically-acclaimed all over the world.
"We were very excited to do it," continued Glum. "If you are going to produce an artist's 3D rock video, Slash is definitely on the top of that list."
SLASH is Slash's first album as a solo artist, having previously recorded and toured most recently with Velvet Revolver from 2003-2008. One of the most recognizable rockers of all time, with his signature top hat, he is also critically recognized as one of the all-time best guitarists ever to play. In August 2009, Time Magazine ranked him #2 on its list of the 10 Best Electric Guitar Players of All-Time.
Always on the cutting-edge of music, art and technology, PassmoreLab has a solid background in rock and 3D music videos, working with New York garage-glam phenoms Semi Precious Weapons on the award-winning "Magnetic Baby"; with punk-rockers Osaka Popstar & the American Legends of Punk on "Wicked World", with Rock 'N Roll Hall of Famer Sammy Hagar on "Loud", and LA art noir group Miss Derringer on "Black Tears". PassmoreLab also delved into the rock-and-roll archives of famed photographer Bob Gruen to produce the first-ever 3D conversions of images from the Rock, Punk, and New Wave eras. Working together with Gruen, PassmoreLab developed an innovative new process to convert many of Gruen's well-known images to a format that can be viewed on stereoscopic displays.
"By The Sword, in 3D!" will be seen in VOD on various network locations in Italy, Norway, Spain, Sweden, Australia, Japan & Canada; at the 3D Experience Entertainment & Technology Festival as the pre-roll to U23D in Times Square, New York City; and at Hard Rock Cafes in Barcelona & Madrid; additional locations to be announced.
About Slash
Slash is widely considered one of the greatest rock guitar players of all time. He has received countless accolades and awards including a 2007 star on the Hollywood Walk of Fame alongside his idols Jimmy Page and Jimi Hendrix. An original member of iconic rock band Guns N' Roses, Slash helped the band create signature sounds like the guitar riff of #1 hit "Sweet Child o' Mine" and "Welcome To The Jungle." The band dominated the 1980's and 90's music scene selling more than 100 million albums worldwide and ushered in a decade of hard charging rock music. After leaving the band, Slash went on to critical acclaim in his personal project Slash's Snakepit, and global success with supergroup Velvet Revolver. He has been widely sought after by the biggest musicians of all time, performing with everyone from Michael Jackson to Stevie Wonder to Ray Charles. Slash is one of the marquee playable characters in Guitar Hero III, has two signature Gibson guitars in his name, and authored his own top-selling biography Slash in 2007. Slash recently landed on the top of the charts with his first true solo album, SLASH, which debuted as #1 Rock Album and #3 overall on Billboard's coveted Top 200 charts, in addition to going #1 in more than 13 countries. The album features an all-star roster of guest musicians including Ian Astbury, Chris Cornell, Rocco DeLuca, Fergie, Dave Grohl, Myles Kennedy, Kid Rock, Lemmy Kilmister, Adam Levine of Maroon 5, Duff McKagan, M. Shadows of Avenged Sevenfold, Ozzy Osbourne, Iggy Pop, and Andrew Stockdale of Wolfmother. In addition to a long career filled with prestigious awards and accolades, Slash was just honored this week by the Hollywood Chamber of Commerce who named him as an official selection for 2011 to receive a star on Hollywood's iconic Walk of Fame. A date for the ceremony has yet to be determined. For information, visit http://www.slashonline.com.
About PassmoreLab
Passmorelab, the San Diego-based multi-media production studio that specializes in 3D production and 2D to 3D content conversion, has the world's largest library of 3D content available for licensing. The studio custom-designs and builds its own RED camera 3D rigs for both conventional and rugged film productions, shooting everything from feature films, television and science documentaries, to underwater diving, extreme sports and cave exploration. State-of-the-art facilities include a full 3D production studio, video/film post-production, optical development lab, and a software development environment. Production includes 2D, 3D, high dynamic range time lapse, stereoscopic microscopy and cutting-edge simulation technologies for real time SFX. Passmorelab's proprietary technology for 2D to 3D content conversion is known in the industry for quick turnaround times and competitive conversion costs. PassmoreLab has additional offices in Russia and the Philippines. For information, visit http://www.passmorelab.com, or contact Steve Glum, steve(at)passmorelab(dot)com, 858.200.5813.
###