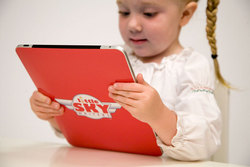 "Little Sky Writers gives kids who require a more active approach to learning a fair chance to develop educational success, and accompanying confidence much earlier." -Lauren Monahan VP Educational Development
Carlsbad, CA (PRWEB) September 1, 2010
San Diego based toy company DANO2 TM has started developing educational apps for the iPad that take advantage of the device's interactive touchscreen. Their first game, Little Sky Writers TM, teaches kids the correct way to write the letters of the alphabet by having them guide a small airplane through a series of flight paths with their finger. As the game is played, Roger the control tower (voiced by comedian and NickelodeonTM star, Stephen Kramer Glickman) provides amusing and educational commentary. The game is so intuitive and fun that it reaches children long before a traditional workbook can.
The app was designed with the input of several veteran Kindergarten teachers and educational professionals. One of the key consultants, Diane Owen, a kindergarten teacher in Santa Maria, CA has been training teachers, and teaching kids how to write their ABC's for the past 30 years, and looks forward to using what she describes as her "dream program for hands-on & kinesthetic learners" to start this school year off. Owen has spent decades battling the poor habits of children trained to write improperly. With the realtime feedback available on the iPad, "pilots" are informed as soon as they deviate from the correct path eliminating incorrect writing.
Owen is piloting the program with one iPad in her classroom this fall, however has already begun the process of grant writing to expand the number of devices in the classroom. She feels it is better for the students, and more affordable than traditional computers "my students are low income; many do not have the same access to technology as their higher-income counterparts. With this grant, not only will they learn how to write their letters properly, but they will also gain a crucial confidence with technology at an early age."
Lauren Monahan, VP of Educational Development at DANO2, states "Little Sky Writers gives kids who require a more active approach to learning a fair chance to develop educational success, and accompanying confidence much earlier." Monahan, who was recently awarded a grant to attend an MIT conference highlighting education and technology, believes that the iPad should not be viewed as an expensive toy, but rather an inexpensive computer - one who's intuitive touchscreen makes it the ideal tool for kids.
Little Sky Writers for the iPad is now available for sale in the iTunes store. A version for the iPhone is coming soon.
About DANO2
DANO2 is a family owned company based out of Carlsbad, California and manufactures all of its products in the USA using environmentally friendly, medical grade materials that are PVC, phthalate, and BPA free. All products are designed with input from educators and health care professionals and independently tested for safety.
For more information, look for articles in Pregnancy Magazine, HOW Magazine, and San Diego Family, as well as features on San Diego's KFMB 8 News, and NBC 7/39. You can also visit their website at http://www.dano2.com or http://www.littleskywriters.com.
Press Contacts:
Daniel Monahan:
daniel(at)dano2(dot)com
310.497.4310
Lauren Monahan:
lauren(at)dano2(dot)com
858.353.0723
###