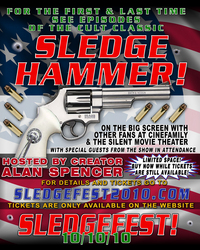 After 22 years, Sledge Hammer! still knows what he's doing.
Culver City, CA (PRWEB) September 1, 2010
More than 22-years after it went off the air, Sledge Hammer! remains the funniest, wittiest TV cop series of all time. The irreverent humor of Alan Spencer puts a reckless twist on a Dirty Harry type hero - so we can live vicariously through Hammer's anger issues without actually going there ourselves. It's the perfect solution to anger management if you ask me. But under the tempestuous, often violent gags, Hammer, Trunk and Doreau are also likable, real people. It's this not-so-subtle combination of "The Good, The Bad, and The Funny" that delivers the undeniable sledge hammer impact. And true to form, the series went out with a bang too, with an explosive unforgettable final episode that still leaves Hammerheads wondering …. what next? Who knows? Perhaps the publicity surrounding this event might help perpetuate, "Sledge Hammer! The Movie." Until then, Sledge-Fest 2010 is the next best thing.
Excellence should be celebrated, and Sledge-Fest 2010 is a celebration of Sledge Hammer! As a business school graduate, I've always dreamed of one day bringing a great product to market and here it is. We'll be screening Sledge Hammer! episodes at the nostalgic Silent Movie Theater right in the heart of Hollywood. Some of the available cast members, as well as behind the scenes contributors, will be attending the show and appearing onstage between episodes. Harrison Page, Patti Tippo, Kurt Paul and Beverly Leech have already confirmed their presence. And the really great news is that Alan Spencer has agreed to host the event. His commentaries on season one DVD have been called "amongst the funniest ever recorded" according to reviews. And if anyone knows about Mr. Spencer's eccentric personality, that means… anything might happen!
The producer of Sledge-Fest 2010 is Jennifer Barlow, who appeared in the episode, Under the Gun where she delivered a "bad" singing-telegram. She has a long career as a producer, director and actress, but is perhaps best known as Ensign Anthea Gibson, the first woman navigator of the Starship Enterprise on Star Trek: the Next Generation. She also co-starred as Garth Brook's "other woman" in the notorious music video, "The Thunder Rolls." Barlow says, "I've always been a huge fan of "Sledge Hammer! but after working on this event I am definitely hooked for life. David Rasche's sexy gun-lovin' cop character helps me get in touch with my violent side. After editing together humorous 'selects' from the series, I'm ready to throw away my tree-hugging-pacifist-ethics and hunt me some moose, right now!"
The third fan of our eclectic-trio is Mark Rathke. As an impressionable teenager, Rathke enjoyed the tough-cop image and humor portrayed in Sledge Hammer! Since its debut in 1986, Rathke has been hooked, and has worked since 2004 as webmaster and administrator for both its forums and the Sledge Hammer! online store. When the offer presented itself, he jumped right on board to participate in this festival. A musician at heart, Mark Rathke has recorded a heavy metal version of the Sledge Hammer! theme for the DVDs which will be played pre-show.
I met Mark Rathke while he was administering the forums and shared in his vision for a Sledge Hammer! fan gathering. Mark volunteered as Event Coordinator and along with Jennifer Barlow, the three of us hope to make this event something the fans can be proud of.
In addition to the dozens of people who have already bought tickets from the Los Angeles area, quite a few people are flying to Sledge-Fest. Currently 3 are flying in from Canada and 1 from the UK. 5 are flying in from Chicago, 1 from Seattle, 2 from San Francisco, 1 from Pennsylvania, and 1 from Virginia. They know that Sledge-Fest is worth the travel.
So join producer Alan Spencer and many of the cast members at Sledge-Fest 2010 at the Silent Movie Theater in Los Angeles on October 10, 2010. There will be a meet and great after party & buffet dinner for those that purchase VIP tickets.
For more info & tickets go to: http://www.SledgeFest2010.com
###