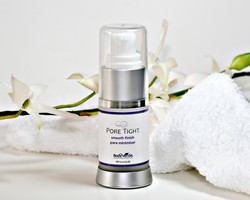 We do not buy into the thought process that if it's expensive, it's better. -- Sue Donnellan, founder, BodyVerde natural balanced skincare
Boise, ID (PRWEB) September 1, 2010
Pores aren't often sexy enough to make the headlines in women's magazines, but these tiny sweat-gland openings can have a dramatic impact on the appearance of aging.
Those who know about this beauty secret may recommend lasers, light devices or chemical treatments – but far less costly and invasive alternatives can make pores smaller and help skin look years younger.
BodyVerde.com recently introduced Pore Tight, which exfoliates surface-layer skin and tightens pores, leaving the face toned and smooth skin with a healthy glow. The lightweight but luxurious cream dries to a matte finish so that it can be worn alone or under makeup.
Oversized pores affect nearly everyone as they age, although sun damage and genetics can lead to enlarged pores more quickly. Even zealous cleansing can cause excess oil production and clog the pores, making them bigger.
Minimizing the appearance of large pores is one of the easiest and most effective ways to revive skin and reduce the signs of aging. Pore Tight achieves visible benefits quickly – and most importantly, naturally, without harsh acids or alcohols.
Carefully chosen ingredients provide a three-part process that works in one simple formula. Pore Tight exfoliates dry top-layer skin with natural sugar cane extract; purifies and maintains skin elasticity with super berry fruit and marine plant extracts; and hydrates with grapeseed oil, vitamin E and glycerin.
An airless pump keeps Pore Tight's potent blend of fruit extracts fresh, including acai, goji, pomegranate, mangosteen, coconut, sunflower, grape, green tea and more. Like all BodyVerde products, Pore Tight contains no coloring agents, no parabens, no phthalates, no mineral oil, no petroleum, no synthetic preservatives, no sulfates, no propylene glycol and never any animal products or testing on animals.
A busy working mother of four, BodyVerde founder Sue Donnellan has developed a line of natural skin care products that she wanted for herself and women like her. "We do not buy into the thought process that if it's expensive, it's better. BodyVerde works to keep its products simple and basic, yet effective," she said. "You can feel good about putting our creams, lotions and serums on your skin."
As BodyVerde pointed out in a recent e-report, the typical U.S. consumer uses about 10 health and beauty products every day that contain an average of 126 different chemicals.
BodyVerde's Pore Tight sells for $19.99 at http://www.bodyverde.com/bv/products/pore-tight.
About BodyVerde:
Nature's perfection is the inspiration for BodyVerde's effective and affordable skin care products. We apply our family values to our product development, using only safe and gentle botanical ingredients to promote self-healing from within. Go to http://www.bodyverde.com to sign up for Body Buzz, our e-newsletter, and receive as a bonus a new e-report, The Secret to Beautiful Skin: 10 Reasons to Choose Natural Skin Care Products for You and Your Family.
Contact:
Sue Donnellan
BodyVerde
(208) 938-4920
http://www.bodyverde.com
# # #