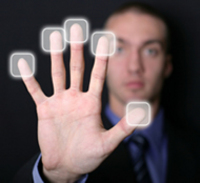 Businesses and individuals can claim any location as their Presence.
Cambridge, MA (PRWEB) September 1, 2010
As smart phones become the de facto accessory among millions of consumers, a new service has emerged that lets people use their phones to interact with everyday places and objects they may come into contact with. It allows businesses and individuals to claim any location as their "Presence" and automatically enables that place with a customizable set of features that other people, in proximity, can access.
While the age of the wired internet was once obsessed with connecting people and businesses virtually in front of a computer terminal, the mobile internet is creating a new kind of hyper-reality.
Think about the last time you stood in line at the DMV. Wasting hours of precious time in a crowded room doing nothing but waiting for your turn. What if you could take a number, answer a few questions on your phone, and be alerted to your ETA for processing, while you went about your errands?
Although that may sound a bit futuristic, it may soon be possible. The Presence mobile applications targeted to the iPhone, Blackberry and Android platforms currently offer this kind of technology for free to small business owners, restaurants, clinics, shopping centers, schools and even individuals who want to set up a Presence at home.
For example, a mall might enable their Presence with an interactive virtual directory that lets visitors search for stores or products, showing them the way via a map overlay on their phone. A café might set up their Presence to enable customers to access a colorful menu of beverages and sandwiches, pay using an online account or credit card with a single press of a button, and pick up their order when their number is displayed.
Individuals may use Presence to enhance their day-to-day experiences. They can use their phones to order at restaurants and split the bill evenly between friends, without waiting for service or even pulling out their wallet. They can set up Presences at their homes to privately share files such as documents, photo albums, music and video with visiting friends.
There are so many possibilities it would be difficult to get into them all here. You can find some more examples on the website. Suffice to say that hyper-reality offers an exciting window into how we may lead our lives in the near future. How we may make our businesses more efficient, our personal relationships more effective, and our daily routine more enjoyable.
###