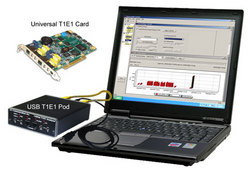 A host of significant enhancements were introduced to the following T1 E1 products: Windows Client Server, MAPS (Message Automation & Protocol Simulation), WCS ML-PPP Emulator, Protocol Analyzer and Multiple Call Capture
Gaithersburg, MD (Vocus) September 1, 2010
GL Communications Inc. announced today the release of T1 E1 Analyzer Software Version 5.33 with new enhancements. Addressing a news conference, Mr. Vijay Kulkarni, CEO of the company said, "Our T1 E1 Analysis suite of products provides comprehensive analysis and emulation capabilities for voiceband analysis and signaling protocol analysis".
He added, "A host of significant enhancements were introduced to the following T1 E1 products: Windows Client Server, MAPS (Message Automation & Protocol Simulation), WCS ML-PPP Emulator, Protocol Analyzer and Multiple Call Capture".
Mr.Kulkarni further added, "The enhanced Windows Client Server now includes jitter measurement and configuration commands, and the Error Insertion application now supports Auto Error Insertion with greater flexibility, with ability to turn on/off auto error insertion, to change error rates with enhanced command set. In the Message Automation and Protocol Simulation (MAPS) application, MAPS ISDN now supports 4ESS & Bellcore ISDN standards. MAPS-SS7 and MAPS-SIGTRAN applications have been enhanced and changes were also introduced to the Script Editor. The enhancements in Windows Client Server ML PPP Emulator include that of ML PPP Echo Test Updates, IP compression in IPHC, optional NCP negotiation, PPP multiplexing, RTP compression and NCP termination. In protocol analyzers, ISDN, GSM, PPP protocol analyzers have been enhanced. And enhancements were also introduced to SS1 Analyzer and Dialer and Multiple Call Capture applications".
He emphasized, "The new features introduced to the applications of the T1 E1 Analyzer product suite significantly enhances the user experience and adds value to the T1 E1 testing needs of the customers".
A brief summary of the enhancements in the T1 E1 Analyzer - 5.33 Release are:
•Windows Client Server
•Jitter Measurement and configuration commands have been added
•Error Insertion application
•The application now supports Auto Error Insertion with greater flexibility, with ability to turn on/off auto error insertion, to change error rates with enhanced command set
•Logic errors can now be inserted at a user-determined fixed or random rate; In Auto Insertion Mode, it is now possible to change the rate; Ex., "insert fixed <new rate>", or "insert random <new rate>"
•Ability to insert logic errors into specific timeslots
•Bulk delay features have been added
•MAPS (Message Automation and Protocol Simulation)
•MAPS-ISDN application now supports 4ESS & Bellcore ISDN standards
•MAPS-SS7 and MAPS-SIGTRAN applications have been enhanced to support ISUP-CHINA standard, and MAPS-SS7 is enhanced to support MTP3 protocol as well
•Script Editor changes
•Array Variable option added for Assignment, and IF and ELSE IF Instruction and the Parser to the editor
•GoTo command now includes Message Type as variable
•Variable added for Loop and Wait Instruction
•Implementation of automation of the scripts i.e. Concurrent and Sequential
•Windows Client Server ML PPP Emulator
•ML PPP Echo Test Updates
New tab namely "Link Test" has been added in MLPPP View. Previously Echo Test was only at PPP level, and now it is available at MLPPP Bundle also
•IP only compression in IPHC (IP header compression)
Hitherto there was support for IP/TCP, IP/UDP compressions in IPHC. Now there is support for only IP compression
•Optional NCP negotiation
NCP negotiation has been made optional with user enabling/disabling the negotiation. This option is available in both PPP and MLPPP Simulation
•PPP Multiplexing
As part of NCP negotiation, now the file PPPMuxCP is supported. Once PPPMuxCP is up, multiplexed PPP frames will be transmitted / received
•CRTP (Compressed RTP)
RTP compression can be enabled by selecting RTP Compression option in IPHC negotiation. On successful negotiation, RTP compression/decompression will be available
•The update also includes NCP termination (Terminate Req/Ack messages) before LCP termination. Once NCP termination is over, LCP termination will start
•MLPPPTerr.ini file has been updated to contain CRTP configuration details like Content Id, RTP Port Range (Start and End range) etc
•Protocol Analyzers
•ISDN Analyzer
The analyzer now supports new protocol standard and new decode for QSIG-ECMA (Standard ECMA-143 4th Edition - December 2001)
•GSM Protocol Analyzers:
•Group Call Control (GCC) protocol (Specification - 3GPP TS 44.068 V9.0.0) is implemented to support VGCS (Voice Group Call Service) feature for GSM-R (Global System for Mobile Communications - Railway)
•Broadcast Call Control (BCC) protocol (Specification - 3GPP TS 44.069 V9.0.0) is implemented to support
VBS (Voice Broadcast Service) feature for GSM-R (Global System for Mobile Communications - Railway)
•PPP Analyzer
PPP Analyzer now includes VoIP Packet Data Analysis to analyze VoIP calls on TDM networks. And it has been enhanced with new decodes to support Compressed RTP and Multiplexed PPP
•SS1 Analyzer and Dialer
SS1 Dialer now supports audio output by activating inward driver loopback and setting the VF Output channel to the one that it's using. Because this strategy implicitly uses the Rx memory (due to the loopback), a check is made to make sure that the SS1 Analyzer is not trying to use the same Rx memory for its audio input. The two modules must use different timeslots if both are performing audio operations. The titles of both applications now indicate their data source (SS1 Analyzer) or destination (SS1 Dialer). The title bar also indicates whether audio I/O is being used. The code supporting the GL Server's "set vf insert" commands is consolidated
•Multiple Call Capture
With the enhanced application, users can now view PCM files using Audacity software and it can be directly invoked from T1 E1
About GL Communications Inc.,
Founded in 1986, GL Communications Inc. is a leading supplier of test, monitoring, and analysis equipment for TDM, Wireless, IP and VoIP networks. Unlike conventional test equipment, GL's test platforms provide visualization, capture, storage, and convenient features like portability, remotability, and scripting.
GL's TDM Analysis & Emulation line of products includes T1, E1, T3, E3, OC-3, STM-1, analog four-wire, and analog two-wire interface cards, external portable pods, and complete system solutions. Capabilities include voiceband traffic analysis and emulation across all traffic types (voice, digits, tones, fax, modem), all protocols (ISDN, SS7, GR-303, Frame Relay, HDLC, V5.X, ATM, GSM, GPRS, etc.), and with capacities up to thousands of channels.
GL's VoIP and IP products generate / analyze thousands of calls / traffic simultaneously with traffic types such as frames, packets, voice files, digits, video, tones, noise, and fax using G.711, G.729, AMR, EVRC, GSM and a range of other codecs. Additional features include visual analysis, real-time listening, and recording. The product line also includes Ethernet / IP Testing capability that simulates and checks frame transport and throughput parameters of Ethernet and IP networks, including delay, errors and other impairments.
GL's Voice Quality Testing (VQT) product line complements all of GL's products. Using ITU-standard algorithms (PAMS, PSQM, and PESQ), GL's VQT provides a widely excepted solution across the telecom industry. Voice Quality Testing across multiple networks (T1, E1, T3, E3, OC-3, VoIP, Wireless, and Landline) are all available.
GL's Wireless Products perform protocol analysis and voice quality assessment on GSM, CDMA and UMTS networks. Connections can be made to any wireless phone with automated call control, GPS mapping and real-time signal measurements.
GL's Echo Canceller testing solutions provide the broadest range of simulation and analysis, including compliance testing per G.168 and G.160 across TDM, IP, VoIP and Wireless networks. GL's wireless VQT solutions help assessing impairments to voice quality such as poor mobile phone quality, voice compression and decompression algorithms, delay, loss and gain in speech levels, noise, acoustic and landline echo, and other distortions are easily assessed and accurately measured.
GL's Handheld data testers can test a wide variety of communications facilities and equipment including T1, fractional T1, E1, fractional E1, T3 and E3 modems, multiplexers, CSU, DSUs, T1 CSUs, DTUs, NTUs and TIUs and more. The testers provide convenience, economy, and portability for almost any interface, including RS232, RS-422, RS-530, X.21, T1, E1, T3, E3, and many others.
GL's Network Surveillance and Monitoring products include Probes for TDM, IP, VoIP, ATM, and Wireless networks. An open standards based approach provides a scalable, feature rich, real-time access to network intelligence. Centralized or distributed access, efficient transport and database loading allow compatibility with 3rd party and standards based monitoring systems.
###