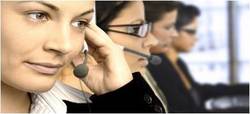 (Vocus) September 1, 2010
In order to help non-profit organizations better connect with potential contributors, the Voice Nation Live team now provides tailorable call answering services customized to fit the needs of companies of all sizes. Business call plans start at $95 per month based on customer needs and do not require a long-term contract.
Despite the recent economic depression, non-profit organizations need the capability to solicit funds from the American public who remain eager volunteers to help the needy. Hiring a single employee to work an 8 hour day to answer the phone and accept donations can cost charity organizations more than $2000 USD a month. During complex disaster responses such as Haiti, leveraging all available resources quality answering service to provide assistance decreases costs and helps save lives.
Voice Nation Live connects client's to additional customers by ensuring all incoming calls are fielded by professional team members with a minimum amount of call hold time. Company operators are equipped with situational scripting templates provided by the customer ensuring caller's needs are met. No hidden fees are charged, keeping projected answering service costs remain within budget forecasts.
Robert Michaels, Executive Director for Global Tribe states, "Running any non-profit requires effective and efficient contact with those who support us. Choosing the right partner to field incoming calls is not a casual selection, rather a critical choice...the new addition of providing the ability for callers to contribute financially is a tremendous advantage."
Voice Nation Live is positioned to help companies more efficiently reach their goals. The Live Receptionist is available 24 hours a day to address questions from new clients via instant messenger, phone, or semail.
About Voice Nation Live:
Voice Nation Live was founded in 2002 and later opened their call center in 2009 and is headed by CEO Jay Reeder. The company has grown to serve more than 40,000 customers including FEMA and the U.S. Coast Guard. The company leverages next generation technology solutions in order to deliver quality, call answering services at the lowest cost.
Contact Details:
VoiceNation Services
5089 Bristol Industrial Hwy.
Suite C
Buford, GA 30518
Ph.No - (866) 766-5050
Email Id: info(at)voicenation(dot)com
website: http://www.qualityansweringservice.com/
###