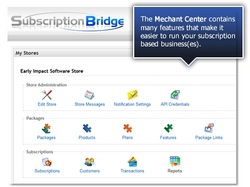 Just like with all of our software, we're the first users: we've been using SubscriptionBridge for several months, and it has substantially reduced our customer service costs related to managing ongoing subscriptions.
Mission Viejo, CA (PRWEB) September 1, 2010
Early Impact, a leading publisher of small business ecommerce solutions today announced the official release of SubscriptionBridge, a new service that provides subscription management tools to users of popular recurring payment systems.
Why SubscriptionBridge?
Recurring payment systems often lack the subscription management and customer service tools that subscription-based businesses need to productively manage their subscriptions. SubscriptionBridge fills the gap providing an array of useful features, from numerous HTML notifications, to the ability to easily edit a subscription, adding or removing features, etc.
Which recurring payment systems does it support?
At the moment SubscriptionBridge works with Authorize.Net Automated Recurring Billing, PayPal Website Payments Pro Recurring Payments, and PayPal Express Checkout Recurring Payments. Click on the following links for a list of features that SubscriptionBridge adds to these robust recurring payment services:

How does it compare to the competition?
SubscriptionBridge competes with services such as Chargify, CheddarGetter, Recurly, and Spreedly. A side-by-side comparison of these subscription management systems can be found at: https://www.subscriptionbridge.com/compare-recurring-billing-systems.asp
The main differences are:
A) SubscriptionBridge does not trigger recurring payments. Instead, it relies on robust recurring payment systems that were designed exactly for that purpose. This ensure maximum reliability (if SubscriptionBridge is unavailable, for any reason, payments are still processed) and portability (if the merchant decides to stop using SubscriptionBridge, the recurring payments are still being processed by the payment gateway).
B) Small businesses need "ready-to-go" solutions, not just Application Programming Interfaces (APIs). Therefore, SubscriptionBridge includes:
B.1) A feature-rich Merchant Center where merchants can create subscription packages and manage ongoing subscriptions
B.2) A built-in checkout system to sell a subscription from a simple HTML link
B.3) A Customer Center that merchants can leverage to let customers manage their own subscriptions (e.g. add features, upgrade package, switch from a trial to a full subscription, change payment method, etc.)
B.4) Ready-to-go integrations with popular shopping cart systems, to allow online merchants to operate ecommerce stores that can handle both subscriptions and one-time purchases. At this time, the following two integrations are available (with more to come).
Shopping cart integrations
One of the most unique features in SubscriptionBridge is the availability of ready-to-go integrations with popular shopping cart systems. Merchants can easily connect their store with SubscriptionBridge - mapping items to subscription packages - and handle the sale of subscriptions and non-subscription products through the same online catalog. At this time, the following two shopping carts are supported, with more to come.
a) ProductCart, Early Impact's shopping cart software. ProductCart is a PA-DSS validated shopping cart system with a tremendous amount of features. More information on ProductCart can be found at: http://www.productcart.com
b) Magento, a very popular open source ecommerce system. A SubscriptionBridge Extension for Magento will be released in the next few days. This will be a BETA release. More information on Magento can be found at: http://www.magentocommerce.com/
When a customer is purchasing an item from the catalog that has been mapped to a subscription package in SubscriptionBridge, the shopping cart will detect it and pass the information to SubscriptionBridge, which will take care of creating a recurring billing profile with the recurring payment system chosen by the merchant, and will handle the management of that subscription from then on (e.g. sending notifications in all sorts of scenarios).
Pricing and free trial
SubscriptionBridge is free for up to 90 days and 100 subscribers. After the initial 90 days, a merchant will only pay $25 per month if the number of subscribers is 100 or less. If the number is higher, the cost per subscriber, per month, starts at $0.25 and decreases as the number of subscribers increases.
About Early Impact
Since 2001, Early Impact has been developing ecommerce solutions that help small businesses run successful online stores. SubscriptionBridge is the latest addition to Early Impact's suite of ecommerce tools, allowing merchants to sell both recurring and non-recurring products and services from the same ecommerce store.
Contact: Early Impact
(800) 804-1680
info(at)earlyimpact(dot)com
http://www.earlyimpact.com
###