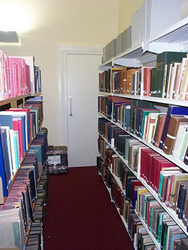 Although our eventual date of erection was months distant from the order stage, contact with Action Storage re-assured a positive outcome
(Vocus) September 1, 2010
Storage equipment specialist Action Storage is regularly called upon to provide versatile shelving arrangements that are customised for all manner of enterprises and organisations. Recently it assisted The Aberdeen Diocesan Library to install archive shelving in its new home in the chapel of a recently refurbished church. As well as being sturdy and expandable, the library wanted shelving that would compliment both the chapel's modern refurbishments and its antiquarian book collection. Action Storage was happy to oblige.
After discussing the shelving system's requirements with the Aberdeen Diocesan Library, Action Storage drew up plans on a shelving arrangement that would maximise the available space. A key consideration was that the archive shelving would have to withstand the heavy weight of 100s of books and valuable papers. With donations from the public and other churches expected, the shelving system would also need to be expandable to cope with increases in storage demands.
Action Storage proposed an arrangement comprising of its versatile Supershelf™ shelving and Technic library shelving. These both provide easily adjustable shelving units which can be customised to maximise the available space in any storage area. The Supershelf™, in particular, has exceptionally durable shelves able to hold up to 500kg per shelf, ensuring a large quantity of heavy antique books can be stored safely. As well as libraries, the Supershelf™ and Technic shelving can be used in a wide variety of environments, including offices, archives, schools and retail areas.
Prior to the move into the new chapel, the Diocesan Library made arrangements to temporarily store the book stock in a church undercroft. Consequently, it was crucial that the archive shelving was installed on schedule so they'd be ready for when the books needed to be moved. The Diocesan Library is run by volunteers, and consequently they required assistance to ensure the shelving was installed correctly and safely. Thanks to its in-house installation team, Action Storage was able to install the Supershelf™ and Technic shelving systems upon delivery and ensure the outfit was completed safely and securely.
"Although our eventual date of erection was months distant from the order stage, contact with Action Storage re-assured a positive outcome," said Stuart Donald, Keeper of the Aberdeen Diocesan Library & Honorary Archivist, "The installation particularly was very smooth with a small team of fitters who admirably managed to overcome all obstacles, finishing on time."
As well as being a big improvement on their old wooden shelving, The Aberdeen Diocesan Library was impressed with the shelving's sturdiness and the fact that it fitted in so well with the chapel's modern refurbishments and equally so with their collection of 18th & 19th century engravings and pictures. With 20 foot high ceilings, the library now has a versatile shelving system that can be easily expanded and has the ability to grow as the library grows.
Further information on Action Storage's Supershelf™ shelving, stockroom shelving and other innovative storage products in its range can be found on its website where you can also order or download its new 160 page catalogue free of charge. Public sector organisations can place orders on credit with a valid purchase order, and all online orders receive a 5% discount.
About Action Storage
For over 23 years Action Storage has supplied shelving, racking and other storage equipment using the latest materials and innovative designs. Its clients include supermarkets, warehouses, government offices, schools and anyone else requiring high quality storage systems throughout the UK and mainland Europe.
Action Storage prides itself on its high service levels, and provides a free, unique advice line for discussing your requirements and assessing the perfect storage solution.
For service enquiries contact:
Website: http://www.action-storage.co.uk
Email: sales@action-storage.co.uk
Tel UK: 0800 592215
Outside UK: +44 (0)1908 525700
Fax: +44 (0)1908 321650
Action Storage
6 Fitzhamon Court
Wolverton Mill South
Milton Keynes
Bucks
MK12 6LB
###