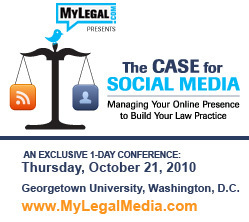 Social media marketing is a proven method for increasing referrals, driving traffic to your website, and building your practice and professional networks. Our conference will be of significant value to all who attend, said Lisa DiMonte, CEO, MyLegal.com.
Washington, DC (PRWEB) September 2, 2010
Washington, D.C.— Lawyers will get a first-ever opportunity to hear recognized legal social media experts discuss how to strategically use online social media platforms such as Facebook, LinkedIn and Twitter to build their legal practice. Just as important, lawyers will also learn how to navigate the unique challenges of this world from the standpoint of ethics, compliance and liability.
MyLegal.com, the first online networking resource exclusively for legal professionals, is presenting "The Case for Social Media: Managing Your Online Presence to Build Your Law Practice," an exclusive one-day conference to be held Thursday, October 21 at the Georgetown University Hotel and Conference Center in Washington, D.C.
"MyLegal.com is thrilled to offer our attendees the opportunity to receive tips, techniques and actionable items of the emerging technologies available in the social media arena." said Lisa DiMonte, CEO of MyLegal.com. "Social media marketing is a proven method for increasing referrals, driving traffic to your website, and building your law practice and professional networks. Our conference will be of significant value to all who attend."
Speakers and their topics include:

Carolyn Elefant, Esq. and Nicole Black, Esq. - From Facebook to Twitter, from LinkedIn to Avvo, from Justia to JDSupra, social media can be a tremendously effective tool for building your legal practice. This session will cover what you need to know before jumping in. Discover which online directories are most effective in helping you achieve your professional goals and which social media platforms make the most sense for you based upon your areas of practice, geographical location and your "online personality."
Sharon Nelson, Esq and John Simek – For legal professionals, the social media waters are still murky from an ethical standpoint. Our experts will help you safely navigate them. Learn more about preservation and production duties during e-discovery – and how to plan for them ahead of time.
Larry Bodine, Esq. - LinkedIn can be a potent business development tool, affording lawyers a unique, cost-efficient opportunity to make new contacts and turn them into face-to-face meetings. But simply putting up a profile and forgetting about it won't do the trick. We'll discuss a variety of practical LinkedIn techniques that you can apply to your practice, including the most strategic ways to identify and join the right groups, participate in relevant discussions and send effective messages to key contacts.
Matthew Asbell, Esq. – Establishing a strong online brand is increasingly critical to business success for solo practitioners and law firms, as well as their clients. Protecting that brand is equally important. In this insightful session you will learn how to protect your brand equity, how to encourage and control your employees' use of your brand, and how to advise your clients regarding their brands in the social media space.
Adrian Dayton, Esq. – Developing your social media strategy can be a challenge. In this informative session you will learn how to create an effective social media strategy and how to convert online contacts into new clients. Adrian will provide insight into which social networks you should use and which to avoid, with a focus on harnessing the power of Twitter to generate leads and grow your practice.
Steve Crandall, J.D. – Lawyers are now using new media platforms to deepen their professional networks and to demonstrate their knowledge and proficiency. Learn how to create a winning profile and discover the most effective ways to showcase your expertise using social media tools. Find out the best practices to improve search engine optimization (SEO) and the quality of online leads.
Conrad Saam – Within three years, Avvo went from concept to market leader, surpassing established brands like Martindale as the definitive resource for people to get information and guidance for their specific legal needs. Avvo is very new, very different, very web 2.0, and many attorneys have questions about how it works. Lawyers who attend this session will learn where the information on Avvo comes from, what impacts the rating (and what doesn't), how Avvo monitors client reviews, and how to gain visibility through an Avvo profile.
Throughout the day attendees are invited to visit the MyLegal.com Technology Lounge, where Georgetown University law students will be on hand to assist lawyers with setting up social media accounts, downloading Smartphone apps and learning how to tweet.
To enhance the networking experience, MyLegal.com will introduce "The Poken," a unique device by which conference attendees will exchange contact information. The digital business card, which includes a photo, name, address, telephone number, email address and links to various social networks, is exchanged when two Pokens are touched together.
For conference schedules, registration forms and sponsorship information, please visit: http://mylegalmedia.com or call 253-405-7910.
About MyLegal.com
MyLegal.com is the first social network exclusively for all professionals within the legal community. MyLegal.com focuses on the business aspects of law and helps its members to effectively promote their expertise, expand their reach, and build their business with a simple and systematic method of targeted multimedia publication. MyLegal.com fills a significant void in the legal space with the convergence of all legal professionals in one agnostic portal where members can share academic insights, best practices and intellectual dialog. With its broad reach encompassing all legal service providers, MyLegal.com is the most comprehensive global resource for lawyers, paralegals and legal assistants.