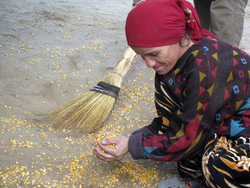 Nearly one in two Tajik children lives in poverty
Perrysburg, OH (Vocus) September 1, 2010
ISOH/IMPACT, one of Ohio's premier said disaster relief and humanitarian aid organizations, has been working closely with minsitry partners in Tajikistan for over 15 years. Following the Russian ban on exports, ISOH/IMPACT has stepped up its aid to Tajikistan, calling on the generosity of Midwestern farmers who donate a portion of their corn and wheat harvest to help feed hungry families.
Drought throughout Russia and all of Central Asia has created a massive shortage of wheat in the region, raising concerns about already malnourished children in Tajikistan, one of the countries hardest hit by the drought and ensuing food crisis.
This year's grain harvests in Russia are expected to be as little as 60% of last year's harvest, a startling figure that has caused the Russian government to ban flour and grain exports through the end of the year. Since mid-July, wheat prices have quadrupled in the Tajik capital of Dushanbe, and there's no telling what effect the recent ban will have on the already sky-high prices. Many families simply won't be able to buy what little food is available.
"Nearly one in two Tajik children lives in poverty," said ISOH/IMPACT President Linda Greene. "Hungry kids don't have time to wait out this latest crisis. They are already malnourished and on the brink of starvation. We have to respond now or these precious children won't make it through the winter."
"The farmers who partner with us have huge hearts. Many of them struggle to make ends meet, but at the end of the day, they put food on their table," Green said. "That's all they want for hungry Tajik children––to know they have food on the table. These farmers make it happen."
ISOH/IMPACT has prepared 10 containers––more than 210 tons of food––for an emergency shipment to Tajikistan. The food has been donated, so it costs as little as $0.25 a meal to ship and distributed the life-saving rations. The emergency relief is expected to have the greatest impact on the elderly, pregnant women, and children who are most at risk for starvation.
"We have the food ready to go. But a full warehouse doesn't do anyone any good. We're asking friends and supporters to help us cover the shipping and distribution costs," Greene said.
Greene is also calling on people to join the Bucket Brigade, an ISOH/IMPACT program that uses 5-gallon buckets to package and distribute food aid. Individuals can fill a lidded five-gallon bucket with items from a list and drop off the bucket at the ISOH/IMPACT warehouse. The buckets are later reused by Tajik families to carry water and store items in their homes.
Instead of filling a bucket themselves, people have the option to give $25 to fill a bucket and feed a family for a week. To learn more about the Bucket Brigade, visit http://www.isohimpact.org/bucketbrigade.
Already this year, ISOH/IMPACT has shipped more than 600,000 meals to its ministry partners in Tajikistan, and the organization plans to increase shipments by 80% to Tajikistan and surrounding countries through the end of the year.
To learn more about ISOH/IMPACT and how you be apart of Reaching Out & Serving Others, visit http://www.isohimpact.org.
###