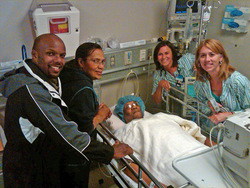 I know Dr. Bernard personally. I've worked with him
Perrysburg, OH (Vocus) September 1, 2010
When Dr. Jean Claude Bernard was hospitalized for heart complications, in many ways it seemed like any other case of an over-worked man whose stress and rhythm of life had caught up to him. But this time the stakes were much higher than the doctor's own life.
When he became a doctor nearly 40 years ago, Dr. Bernard knew he was called to serve his rural countrymen in Haiti. So when this man who had given his heart to the poor was hospitalized for heart complications, thousands of lives were at stake.
Serving in the mountaintop hospital at the Baptist Haiti Mission for nearly his entire career, Dr. Bernard became the hospital's head doctor, treating the poorest of the poor from miles around. The Fermathe hospital where he worked was the only hospital serving the rural communities in the mountains above Port-au-Prince. Then, the earthquake struck on January 12 and Dr. Bernard, who was used to long days and limited resources found himself stretched beyond measure.
Working around the clock alongside US teams of medical doctors, Dr. Bernard set broken bones, operated on fragile bodies, and nursed his beloved mountain neighbors back to health. As each medical team came and went, Dr. Bernard remained, working day and night, seven days a week to meet the needs of the people he dedicated his life to serving.
The beloved doctor was a constant presence in the Fermathe Hospital until his own heart, which had given so much already, was in need of repair. Dr. Bernard found his own life in peril, and there he lay hospitalized in a country where heart surgery is not available.
When Linda Greene, PhD, President and CEO of ISOH/IMPACT, heard about Dr. Bernard's plight, she set to work immediately to find a doctor and hospital that would provide the necessary surgery. Greene, a registered nurse, had served alongside Dr. Bernard on several medical mission trips that she led to Haiti.
"I know Dr. Bernard personally. I've worked with him," Greene said. "My heart went out to him and I knew that I couldn't stand by doing nothing. Thousands of people depend on his practice at the Fermathe hospital."
Using her connections from The Children's LightHouse, an ISOH/IMPACT ministry that reaches out to children from around the world who are in need of life-saving medical care, Greene called upon Dr. Richard Paat, the organization's volunteer medical coordinator.
Having served in Haiti in the aftermath of the earthquake, Dr. Paat knew the vast impact of Dr. Bernard's medical practice, and he recognized that saving Dr. Bernard's life meant saving thousands of others. But at the time he learned about Dr. Bernard's need, Dr. Paat was on a medical mission trip to Guatemala. He had to coordinate the Haitian doctor's trip via cell phone and text messages.
Despite the distance and technical challenges, Dr. Paat directed Greene to St. Luke's Hospital in Maumee, OH. The hospital agreed to donate the necessary procedures and care for Dr. Bernard.
"I have no other words to describe what just happened but miracle. I don't believe that human beings could have put together things so perfectly nor so quickly. We had to be guided by God," said Jean Angus, the Fermathe Hospital administrator and longtime friend of Dr. Bernard. "A special thanks to Linda Greene, Dr. Paat, Dr. Stockton, and all those who contributed to the successful surgery."
Within a few days of sending out the first call for help, Dr. Bernard was on a plane to the United States. On August 13, the day after his arrival, he was admitted to St. Luke's hospital where the doctors performed an angioplasty and inserted two stents to relieve blockage in the arteries. The Haitian doctor was released August 14 to recover at The Children's LightHouse under the watchful eyes of Dr. Greene and Dr. Paat. He returned August 26 to Haiti where he will rest for a short time before returning to the hospital, this time as the doctor serving the people he loves.
###