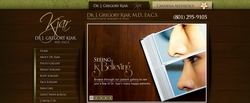 Bountiful, UT (Vocus) September 1, 2010
Dr. J. Gregory Kjar, a board-certified plastic surgeon in Salt Lake City, recently announced the launch of two new websites in support of his Candessa Surgical and Laser Aesthetics medical spa and skincare facility, and his plastic surgery practice in Utah. The new website provides an extensive network of information regarding the spa and skin care services provided, as well as the cosmetic surgery procedures offered through his practice, such as liposuction and breast augmentation in Salt Lake City.
While Dr. Kjar has been servicing the plastic surgery needs of Utah for over 25 years with procedures such as liposuction in Salt Lake City, he says his new websites are designed to emulate the collaborative approach of his medical spa and plastic surgery practice. Dr. Kjar says that specializing in treating the body and skin conditions with physician-supervised aesthetic procedures allows Candessa to remain committed to helping its patients look and feel their best, either through cosmetic surgery or medical spa treatments in Salt Lake City.
In collaboration with Rosemont Media™, a medical website design firm in San Diego, Dr. Kjar has incorporated a number of multimedia options to enhance the virtual experience of each online visitor. By providing access to his social media community, Dr. Kjar is further supporting his current patients, while providing potential patients with the opportunity to familiarize themselves with the doctor and his staff, as well as the variety of services they offer. With the recent launch of the new websites, Candessa Surgical and Laser Aesthetics, Dr. Kjar says he hopes to reach an even wider audience with the increasingly interactive and informative website.
About Dr. Kjar
Dr. J. Gregory Kjar earned his medical degree from the University of Utah, in addition to training received at Southeast Michigan's Providence, Mt. Carmel, and Sinai Hospitals. Following the completion of his medical residency, he completed a fellowship in craniofacial and plastic surgery at the Mayo Clinic in Minnesota. Dr. Kjar is certified by the American Board of Plastic Surgery. He also co-founded the Salt Lake Chapter of Operation Smile, an organization which helps repair cleft lips and palates for children and young adults around the world.
Dr. Kjar and his plastic surgery practice can be found at 1551 Renaissance Towne Dr., Suite 360 in Bountiful, UT 84010, and can be reached at (801) 295-9105 or http://www.drkjar.com or http://www.candessaaesthetics.com
###