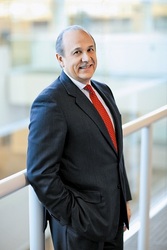 Hamden, CT (PRWEB) September 2, 2010
Murray Martin, President and CEO of Pitney Bowes will be the Keynote Speaker at the Greater New England Minority Supplier Development Council (GNEMSDC) Trade Expo and Conference Sponsors' Luncheon on Friday, October 1 at the MGM Grand at Foxwoods.
Mr. Martin is Chairman, President and CEO of Pitney Bowes, Inc., a $5.6 billion company that provides software, hardware and services that integrate physical and digital communications channels to more than two million customers worldwide.
During his 20+ year career with Pitney Bowes, Mr. Martin has held a variety of senior management positions and has been the architect of over 65 acquisitions.
He received a Distinguished Fellow award from the Center of Applied Cryptographic Research in 2001 and was awarded an honorary Doctor of Laws degree from the University of Waterloo in June 2009.
Mr. Martin received the 2009 New York Business Group Award for exemplary leadership in health care. Pitney Bowes is a nationally recognized leader in innovation, programming and measurement of employee health and wellness initiatives and was one of the first companies to offer a value based pharmacy design. Pitney Bowes is a founding member of Dossia which provides confidential personal health records to employees and their families.
Mr. Martin is a member of the Board of Pitney Bowes Inc., The Brinks Company, the Business Council of Fairfield County, Catalyst, New Horizons Foundation and the Board of Visitors of the John F. Welch College of Business at Sacred Heart University.
The GNEMSDC is a non-profit business membership organization whose mission is to significantly increase opportunities for certified minority business enterprises with our corporate membership. The GNEMSDC serves all six New England states and is one of the 37 regional affiliates of the National Minority Supplier Development Council. The combined annual sales of all certified MBEs certified by the GNEMSDC exceeds $4 billion.
To get more information and to register for this event visit, http://www.gnemsdc.org or call 888-874-7114.
###