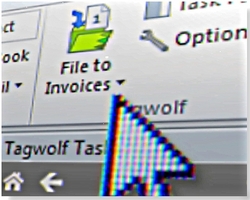 Users reported being able to read and file as much as five email messages per minute and saving up to an hour of time per day.
Leuven, Belgium (PRWEB) September 1, 2010
Allometa BVBA today launched Tagwolf Email Filing Assistant, a new software product that helps professionals save time while filing their email messages in Microsoft® Outlook®. For many knowledge workers, filing important emails from their inbox to a set of folders is a necessary, but also time consuming task. Tagwolf speeds up this task by intelligently suggesting the best folder for each email message. Instead of having to drag and drop emails to a large folder structure, users can simply accept this suggestion and file a message with a single click, possibly saving hours of work per week. More information about how this works, and a free trial version is available at http://www.tagwolf.com .
"This product grew out of a personal need" says Guy Wyers, cofounder of Allometa. "As a program manager overseeing different project teams, I experienced firsthand the problem of having to file hundreds of incoming mails every day. Tagwolf already proved itself during our test phase, reducing my inbox size from thousands of emails to virtually zero and freeing up time for more important things. Other test users reported being able to read and file as much as five email messages per minute and saving up to an hour per day".
The product goes beyond filing of individual email messages. A common issue people face is the "return from vacation" situation where an inbox is filled with hundreds of messages. Tagwolf solves this by allowing the filing of many email messages at once, like entire conversation threads or even groups of messages that have similar content.
The software is self-learning and requires little or no configuration by the user. Being tightly integrated with Microsoft Outlook, the product is quite easy to use, also due to its unique task pane sidebar. And the user always keeps control over where email is being filed.
"We like to compare Tagwolf to power steering for your car" says Leo Olivers, also an Allometa cofounder. "You still decide where the car goes, but it just becomes a lot easier to turn the wheel. Similarly, the user always decides which folder Tagwolf will file an email to, but that decision has now been simplified to a single click, and the user does not have to drag and drop emails any longer onto an unwieldy folder tree. It speeds up your decisions, but you remain in charge of your mail".
Tagwolf Email Filing Assistant works with Microsoft® Outlook® 2003, 2007 and 2010 and is available as a free trial download from http://www.tagwolf.com/en/download . The software's user interface is available in English, German, French and Dutch.
About Allometa BVBA:
Allometa builds technology for people that wish to take control of the flood of digital information that they experience daily. Ending information overload and allowing people to do more with the information they already possess is the core focus of Allometa's research, and of which Tagwolf is the first result. Allometa BVBA is a young, independent software vendor, based in Leuven, Belgium. The company taps 20+ years of software development and management experience of its founders.
# # #