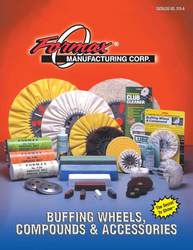 For 72 years customers have been relying on Formax to make the finest buffing & polishing products in the industry.
Grand Rapids, MI (PRWEB) September 8, 2010
Andrew Johnston, V.P. of Sales at Formax Manufacturing, announces the launch of a new website (http://www.formaxmfg.com) that reveals the secrets of achieving a professional shine and obtaining optimum polishing performance with their newly expanded and improved buffing and polishing product lines.
Drawing from over 72 years of experience in the business, the site offers a wealth of information on product selection and application designed to assist the user. It is well organized, user friendly and each product is posted with a color photo and an in-depth description on how the product is best used. This makes it simple for the user to select the appropriate polishing products and techniques for their application.
"The new site provides easy access to our expansive line of buffing and polishing products in a manner that is visually appealing and easy to navigate. It's a well-defined resource that users will return to again and again." Johnston said.
Since 1937 Formax has been a leader in the manufacturing of premium-grade buffing wheels and polishing compounds for the finishing industry. More recently, they have developed product lines for consumer use through their Retail/DIY and the Marine Products divisions. These products consist of the same premium-grade materials just packaged in smaller sizes for convenience within the consumer market.
Now for the first time, users will be able to explore the entire line of Formax products in one place. By placing each product under specific categories tabs, they've merged their diverse product lines into one cohesive web format. Users can search for what they want under the following product category tabs; Buffing Wheels, Polishing Compounds, Buffing Supplies, Abrasive Products and Glues, Buffing and Polishing Kits, Retail and DIY, Marine Products and "How-To" Guides.
With the Unveiling of their New Retail line, (a line of high profile buffing products designed for the homeowner, do-it-yourself market and the small "shop" trade) and YCP® - MARINE METAL POLISH ( an eco-friendly metal polish sold under their new Marine and boating division: Yacht Club Products®), Formax offers a comprehensive site for anyone looking for buffing and polishing accessories.
Finally, the site has an entire section of "HOW-TO" guides that reveal the secrets to a professional shine, and enables the user to obtain optimum performance from their Formax buffing and polishing products.
"We intend to use this site as a launching pad for new ideas. There will be more "HOW-TO" guides, followed by "ASK THE EXPERT" which will allow customers to communicate directly with our experts via email. This is all part of our on-going goal to provide valuable information and interaction with our customers." Johnston said.
About Formax Manufacturing Corp.:
Formax manufactures products for large commercial and industrial consumers under the Formax brand label, as well as, manufacturing consumer items under private brand label which include packaging, plastic bagging, blister packaging, and filling equipment. Formax also maintains a complete in-house tool, fixture, laboratory and sales department to meet the ever changing demands of the market place.
Now in its third generation of leadership, Formax Manufacturing continues its dedication to supplying the very finest products, service and technical knowledge available to the Finishing Industry. In order to better serve our customers, Formax is continually developing new products and improving existing ones.
Formax products are made in the USA and sold throughout the United States and World Wide through direct sales and by our knowledgeable distributors. For your nearest distributor or for product information, please call 1-800-242-2833.
###