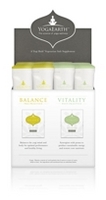 "YogaEarth harmonizes my practice, my movement, my cells. I use the products every day, whether I practice yoga, do cardio, or simply go for a walk. The shift has been observable and profound for me." Elena Brower, adidas Global Ambassador & Yoga Teacher
Venice, CA (PRWEB) September 1, 2010
YogaEarth is one of the fastest growing yoga lifestyle companies, created by 250 leading yoga teachers and national wellness professionals. After two years of development and only six months on the market, YogaEarth announces a powerful team of product champions including some of the nation's most recognizable yoga teachers: Elena Brower (official adidas yogini and Gywneth Paltrow's yoga instructor), Sadie Nardini (dubbed "star instructor" by Yoga Journal, and the wellness expert for both Martha Stewart's Whole Living Magazine and Dr. Oz's Sharecare), Lisa Walford (YogaWorks Curriculum Director and creator of the methodology that trained most of today's elite teachers), and Rebecca Pacheco (award-winning Omgal.com blogger and wellness expert). YogaEarth has partnered to donate proceeds to the nation's largest yoga nonprofit: Off the Mat, Into the World™, co-founded by teacher Seane Corn (social pioneer, Nike-sponsored instructor and Oprah.com collaborator). The country's number one ranked pilates instructor (Nicole Brandon) and the top ranked nutrition (and registered dietitian) guru Ashley Koff, and many others, have also made this a core part of their wellness programs.
YogaEarth was recently listed as a "Most Wanted 2010" item in Vogue Magazine!
What makes YogaEarth so special?
Daniel Cook, founder of YogaEarth, understood that yoga teachers possess a unique perspective on mind-body health, based on the study of yoga and deep observation of the impact of nutrition and lifestyle decisions on the lives of their students. YogaEarth then collaborated with hundreds of yoga instructors and unlocked this intelligence to create nutrition products that optimize each person's practice, whatever that may be.
YogaEarth is more than a nutrition company. YogaEarth has quickly become an opinion leader and trusted source of instruction, tools and inspiration for leading a balanced life based on the integration of yoga and natural wellness. YogaEarth features free weekly yoga videos (TerraFlow) sent from top teachers to each subscriber's inbox. YogaEarth's team of experts share their insight and knowledge surrounding natural wellness, and valuable information on where to eat, travel, and sweat on the YogaEarth blog and social media channels.
Don't let the name deceive – while yoga continues to skyrocket in popularity, renowned runners, bikers, surfers, swimmers, climbers....even pilots, including Guinness World Record™ holding pilot Barrington Irving, and pro racecar drivers, use YogaEarth daily.
Get YogaEarth's nutrition system, plus an exclusive kit of wellness bonus gifts at yogaearth.com/yogaenergy.
YogaEarth develops natural wellness products for the mind-body athlete that have been inspired, field-tested and Yogi-Built™ certified by the yoga teacher community. Co-designed by 250 of the most experienced yoga teachers nationwide, the company's inaugural products, Balance (pre-practice) and Vitality (post-practice) help you get the most from your yoga, or any other practice that is important to you. Find a collection of the world's finest teacher-selected products and highest caliber wellness instruction and guidance at http://www.yogaearth.com.
For more information on YogaEarth and its mission contact:
YogaEarth.com
Los Angeles, California
Phone: 310.450.3530
# # #