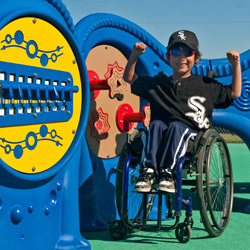 Delano, MN (PRWEB) September 1, 2010
A very important and often overlooked aspect of playground design, which is addressed with the Inclusive Play concept, is accessibility for children with sensory disabilities. Inclusive Play playgrounds allow children with disabilities, such as autism, to have fun and interact with other children, through engaging, challenging and therapeutic sensory activities.
Landscape Structures Inc., a Minnesota-based commercial playground equipment manufacturer, is the leader in the Inclusive Play movement. The key concepts are that playgrounds should be physically accessible to all children, age and developmentally appropriate, and contain sensory-stimulating activities. Landscape Structures' Inclusive Play playgrounds are one of a kind with both modern and classic design elements, but remain focused on being inclusive and universally accessible. Children of all ages and abilities can come together on one playground and play as equals.
In the upcoming ASLA (American Society of Landscape Architects) Annual Meeting and Expo in Washington, D.C., on September 10th, Landscape Structures will exhibit their Inclusive Play playgrounds, and Landscape Structures' Chairman and Cofounder, Steve King, will present an education session on A Higher Level of Inclusive Play: Trends in Playground Design. Click here to find out more about inclusive play and Landscape Structures playgrounds.
Landscape Structures, the premier provider of innovative playground equipment, is committed to creating inspiring play experiences for children while honoring the environment. From personalized playground design to custom-designed playstructures, we offer commercial playground equipment that is artful, safe, and most of all, made for years of fun.
###