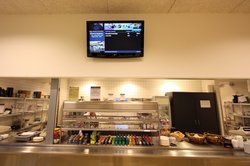 There are several reasons why we chose Scala. First and foremost, we love the ability to make our own templates, and it is very easy to update these. It is flexible and easy.
Næstved, Denmark (PRWEB) September 1, 2010
At Handelskolen Sjælland Syd, a business school that provides courses for young students, adults and companies, administrators realized a growing need to communicate information and activities more quickly to visitors and its diverse student body. Because the school wanted to be perceived as modern and innovative, it decided to install a school-wide digital display network at its locations in Næstved and Vodingbord, Denmark.
To help Handelskolen Sjælland Syd communicate more effectively to varying audiences, Scala Certified Partner Calamus installed a network of 25 digital displays to welcome guests and broadcast important school information, news and current events.
Administrators can use Scala Designer and Content Manager to create and program what kind of information the displays show. They can schedule general information to be broadcast to several screens at once, and they can program content and send it to specific screens. For example, Scala ensures daily information is always displayed on screens in the school's entrances, stairwells and hallways; however, it can send different information to the digital menuboard in the cafeteria, which changes day to day.
Calamus developed a script for Handelskolen Sjælland Syd that automatically gets data from an existing computer-based activity calendar. This content is shown on four screens in the entrance area so that visitors get relevant information the minute they walk through the door.
Automating content has given the school several benefits. Handelskolen Sjælland Syd is saving time, and now they are able to trust the system and be sure that it's showing the updated information, according to Morten Jørgensen, IT Administrator at Handelskolen Sjælland Syd.
"There are several reasons why we chose Scala. First and foremost, we love the ability to make our own templates, and it is very easy to update these," Jørgensen said. "Now we are able to log into the system anywhere in the world, as long as we have an Internet connection, and update the content. It is flexible and easy."
For a full case study about Handelskolen Sjælland Syd's network of digital displays, visit http://www.scala.com/news/studies/handelskolen.
About Calamus
Since 1977, Calamus Denmark A/S has specialized in high-quality AV products to ensure perfect presentations, meetings, lectures and more. Today, we are one of Scandinavia's leading AV vendors and provide consultation with clients, architects and others to provide customers with the right solutions. Calamus Denmark A/S cooperates with suppliers all over the world to ensure that we are always updated with the latest developments in our product range.
About Scala
Driving more than 500,000 screens worldwide, Scala is a leading global provider of digital signage and advertising management solutions. Scala is the world's first connected signage company, offering the leading platform for content creation, management and distribution in digital signage networks and the first unified platform for advertising management of both traditional and digital signage networks. The company's digital signage customers include Rabobank, IKEA, Burger King, T-Mobile, Virgin MegaStore, Warner Brothers, The Life Channel, Rikstoto, Repsol, NorgesGruppen, Audi, ECE Flatmedia, Kaufhof (Metro Group) and thousands more. Advertising management customers include CBS Outdoor, Clear Channel Outdoor and Magic Media, among others. Scala is headquartered near Philadelphia, USA, and has subsidiaries in Canada, The Netherlands, France, Norway, Germany and Japan, as well as more than 450 partners in more than 60 countries. More information is available at http://www.scala.com.
©2010 Scala, Inc. 350 Eagleview Blvd. Exton, PA 19341. Scala and the Exclamation Point Logo are registered trademarks of Scala.
###