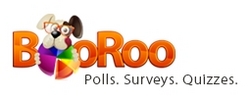 Not only is this tool very easy to use, but it has served many purposes including surveys, polls, online registration, online forms, and online exams. It has definitely been a great communication and tracking tool.
Bristol, UK (PRWEB) September 2, 2010
BooRoo Ltd. launches an innovative enhancement of its 10-year-old platform. The latest version includes a plethora of new features and functionality and is available in numerous languages, for rapid global deployment.
BooRoo adds a suite of new tools and functionality to their robust survey platform. The survey and quiz solution has been enhanced with a completely new interface that focuses on a highly intuitive path to productivity. Additionally, the toolbar has evolved into a drag and drop, visual toolset, that follows the user on the page for seamless editing and creation of compelling polls, surveys and quizzes.
The new application provides a large library of new themes/skins, so customizing a poll; survey or quiz can now be a true extension of your company or individual personality. Furthermore, by simply contacting the BooRoo Design team, you can collaborate and create custom themes/skins that compliment your brand.
BooRoo empowers the next generation of users with a toolset for researchers, marketers, educators, HR professionals and more. Whether you are creating complex surveys, evaluations, fun interactive polls, or market research; BooRoo provides everything you need to gather the data necessary to empower your business.
Business Surveys:
With BooRoo Survey Solutions, you get the tools you need to create compelling surveys that provide the feedback you need to make informed business decisions. Once you have gathered the feedback, you can sort, edit, manage, analyze and present the information.
Quizzes for Education:
BooRoo Quizzes help students (or employees) gain core knowledge and sharpen their logic skills through online interactive quizzes and puzzles. Several recent studies show a tremendous increase in the test results of students who engage in web quizzes over students who only utilize book-based study methods. The results of one study showed a 21% increase in comprehension and a 24% increase in test scores.
About BooRoo:
BooRoo (http://www.BooRoo.com) is an online survey tool that helps users create, publish and analyze survey, poll or quiz results in real time. With BooRoo, you can create questionnaires, web forms, and quizzes for marketing, research and customer service research. The company has been providing an international service since 2002. BooRoo is based in Bristol, UK.
Contact: BooRoo Ltd., Inc. David Meagor
Public Relations: 0845 200 2305
http://www.BooRoo.com